How do you stay up to date in an industry that's constantly changing, like social media?
We were a Facebook and Instagram-only company until the beginning of this year. During COVID, we were really forced to consider two things. One, we started looking at whether we should only stay in the automotive industry.  Beginning in 2022, we are moving outside automotive and taking the BuyerBridge platform into other verticals. Secondly, with all the changes Facebook was making, was it smart for us to only be on Facebook and Instagram? So, in 2021, we started making relationships with Snapchat, TikTok, and Pinterest.
Because we are a leader and Facebook Marketing Partner on Facebook and Instagram advertising for automotive, we brought a lot of street credibility. We came with a large book of business, and they wanted to understand if they could help, and see if there was a fit. For us, we listen to our customers, and we take action on their behalf to better their business. When they started asking for other ways they can diversify digitally, we had to look at what other opportunities that business could have. For us, we deal with a lot of brick-and-mortar car dealerships and that limits your number of advertising mediums. That's where social advertising is beneficial, we go where the customers are. In the beginning, they were logging into at least one or two platforms a day – Facebook or Instagram. Now, consumers are logging in five to eight a day with new platforms like TikTok, Pinterest, and Snapchat. We're always trying to follow the consumer and follow the needs of our customers.
As a social advertising business, did you see an uptick during COVID?
We doubled our headcount during COVID, which is crazy. We happened to be in a perfect storm. We already had built technology, we already had the relationships, we already had the proven systems, we were just lacking more customers. Mid-COVID, when people weren't really driving by billboards, or listening to the radio in their car, customers began to ask how do I reach these consumers?  Looking at car dealerships, consumers didn't know if they were open or closed at their service lane or if their state shut them down. They had to be proactive with their messaging and these mediums became very instrumental in helping people get their message out to their local communities. Sometimes you hear about a pivotal point being in the right place at the right time, and that was us.

What makes your company culture special?
One of the hardest things over the past year and a half was redefining our culture that pre-COVID was based in an office. Right from the beginning, we asked our employees, should we shut the offices down or should we keep them? The team told us they wanted to test out working from home. We adopted what we call a WFW approach, work from wherever. We encourage our employees to travel and to do other things and work from wherever not just at home and we had multiple people relocate. It's always been about focusing on the employees. What are their needs? How do we attract the best talent? What tools do they need? Even though we're working in a remote environment, we still want to do all the things we did when we were in office. For instance, instead of going out to lunch together, we send out DoorDash gift cards for lunch. Or we would have had their favorite coffee or snacks for them when they came in, now we'll send them surprise gift boxes with them inside. I used to walk around every morning and high-five everybody and say good hello and I could tell instantly if someone was up or down, if they needed some
 encouragement. In the office, I could do what we called Water Coolers and pull them aside to catch up and chat with them. I can't do that anymore, and I miss that. So, we took Water Cooler virtual, and now three times a week, for an hour, my entire staff has access to a private, one-on-one Zoom meeting with me. I get to know more about our employees, see what they're up to and how things are going. I also get great feedback, because our employees are very open with us on what their needs are.
We focus on three core values, I think those have really helped in building a company culture we're proud of. The first one is learn and lead, we're big on having employees get education and training. I think some employers fear by making their employees too smart, they might leave. I want my employees as certified as possible and have the highest badges. If they leave, that's on me, but I want them to learn as much as they can. Our core value is to learn and lead, so after they learn they need to put programs together to share that. We create Google Classrooms, and they teach internally to our teams and to our customers. Every Friday, we have what we call Learn it Live Friday. For 15 minutes, anyone can get on stage and talk to the whole company about anything – whether it's traveling or something new on TikTok they learned, it doesn't matter what it is. It encourages us to share knowledge that we have, that other people may not have.
Our second core value is to jump in. Being a startup, you're wearing a lot of hats and then over time, you can add more team members to take some of those hats off you. But sometimes people leave, and you need to jump back in. When I was in the office, I'd take the garbage out and fill the coffee cup up, it didn't matter that I was the CEO. We're all people trying to move our business forward and we have got to jump in and help.
The last core value that we really focus on is what we call atLife, which is simply about being happy. The whole work-life balance I don't think exists because you don't draw a line and say I'm at home and I'm at work. Especially now the line is completely blurred. So even though I'm working in my house right now, I have some extra time to take the kids to the bus stop, and I want the same for my team members. It's about doing the things that make you happy alongside the people you work with. When our team does look to hire a new person, they look for the people that they could be friends with or could all go and hang out together. Even in this remote environment, the team is getting together, setting up travel plans, or seeing concerts. They have all become such great friends. 
What are some of the challenges you've faced over the years in growing your business? How did you overcome them?
I'm sure a lot of other business owners will echo the same two challenges – business and cash.  Building a great team – not just your internal team – but your customers too. Bad customers create unhappy employees and vice versa; kind of like the saying a happy wife is a happy life. For us, it was about training our sales team to not win a deal just for them, but to keep the whole company in mind. Do they fit in for the team and for the business? We want to attract the kind of people that make us happier or else our atLife core value doesn't work. Sometimes it's hard to do that. Cash can suffer because it takes too long to get the right type of customers. It's a balancing act.
We're a non-funded company, so I can't go back to my investors and say," Look at all the cool things and flashy objects we're building, want to invest more?" We have to prove to our customers one by one, that we're doing something awesome for them. They are the only ones that can truly validate if we are building something meaningful for them.
Where do you hope to see Dealers United in the future?
Right now, we're very focused on the BuyerBridge software we built and making it the most recognizable and chosen platform for social media advertising. That's a very lofty goal because there are some big players and heavily funded players in the market. But it's a fun challenge that our team is up for, and we're excited about what we're working on. We want to continue to make things simple and meaningful for our customers. It's truly helping businesses move money over to these digital platforms and get real business from them. I don't think that and that's been answered by many companies yet. In the next few years, all our energy is going to be around simplification and helping businesses tap into these mediums where consumers are. We want to help save a lot of America that we're used to that's built on small businesses.
What is your proudest moment as CEO?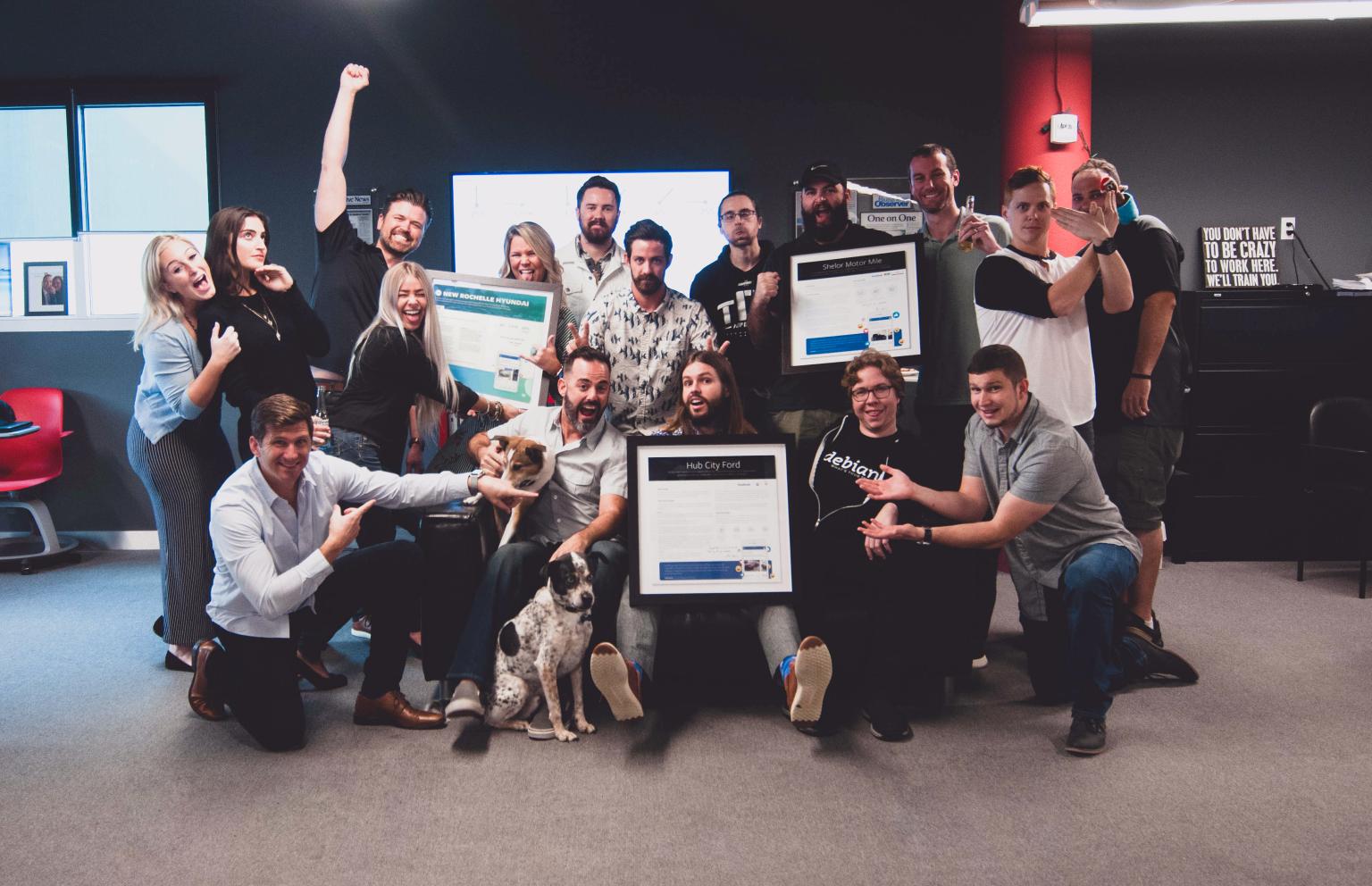 Awards and recognition are always things that make you proud because it's coming from outside the walls of your company. If I had to pick one moment, it was when we became the number one Facebook and Instagram advertising partner for automotive. We never set out to be a Facebook and Instagram company, but I met the folks at Facebook about six years ago, they convinced me. What they were working on was so good that we had to bet our entire business on it and from there we became amazing partners with them. When we got validated, we were up against some really big competition in our space. And when we overthrew everybody we put a mark in the sand that we're here, and validated our team's hard work. It's hard to fully validate without comparing your growth to others, and when you get validated from an outside source like Facebook, that is pretty powerful and rewarding for you as the entrepreneur and the entire team that helped get you there.
What does it mean to you to be selected as a GrowFL Florida Companies to Watch Honoree?
It's about the team, and the validation for everyone that's been working so hard. I think all companies who get awards based on growth like this can agree, it's really hard to get there. Especially during COVID, a lot of companies went out of business. I'm just thankful that we're in this position and that we're being recognized for our growth. It is a huge testament to the team's work and what they're doing is meaningful and worthwhile. I think that's the ultimate success, right? Growth only comes by building meaningful things and having customers validate it through the funding that they provide. I've seen the other companies selected as Honorees, and it's awesome to be included in the same sentence. I'm honored.
Anyone you'd like to thank?
Our customers and our employees. We have to go on this journey together and people have trusted me with their money, time, and their livelihoods. We've watched team members get married, buy houses, and have kids, only because they've chosen to take their time and put it with us and not somewhere else. I want to thank them for following me, it's an incredible honor that people would choose to do that. At this point, it's beyond my individual grind, it's all about the team and what we can all accomplish together with a shared vision. They do so much.