You need to lead your people from mindsets of chaos to order, scarcity to abundance, and survive to thrive. This training is available to you at no cost,  lead strong through this time of crisis.  Remember…fear is contagious, but so is leadership.
---
---
Meet the Presenter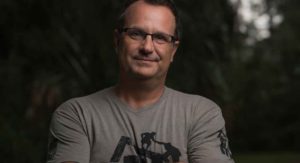 Scott Mann – Retired Green Beret, Warrior Storyteller & Leadership Expert
Scott Mann is a master at building relationships in high-stakes, competitive environments. As a Green Beret in the United States Army, he forged bonds and solved problems using values and leadership skills that moved people around the world to stand up for themselves. His secret? He was able to restore trust and create human connections in places where that didn't seem possible. He is now bringing those same principles to corporate boardrooms and conference rooms, where trusted leadership is more valuable—and more vulnerable—than ever.
In today's fast-changing, hyper-connected world, sound bytes and tweets have eroded our ability to communicate with one other," Scott says. "When we figure out how to look below the water line of what's really going on around us, we get back to those innate, timeless tribal-like skills that allow us to lead in our business and personal lives. If you can't do that no one is going to follow because they don't trust you.
Scott Mann spent 23 years in the United States Army, 18 of that as a Green Beret, where he specialized in unconventional, high-impact missions all over the world including Colombia, Ecuador, Peru, Panama, Iraq and Afghanistan.
Scott's problem-solving abilities were honed during long deployments in places where trust was absent, conflict rampant and he had seconds to make real connections with local communities using his head, his heart, and when threats closed in against these communities, his hands. Using those leadership skills, Scott now helps organizations gain a better understanding of its internal culture, while exposing the potential for conflict that exists when trust has deteriorated. In the same way he empowered local tribes in Iraq and Afghanistan to make transformative decisions, using very few resources, Scott teaches corporate leaders and their teams the relationship-building techniques that drive so many of his successful combat operations.
Scott appears frequently on CNN, Bloomberg, Fox and Friends, Fox Business News, News Max and dozens of syndicated radio shows including National Public Radio, Wall Street Journal Radio, Fox News Radio and the Jim Bohannon Show. His op-eds have appeared in The Tampa Tribune, Washington Post and the Small Wars Journal.
Scott is a high-performance breath coach certified by Dr Belisa Vranich.