GrowFL Northeast Chapter Event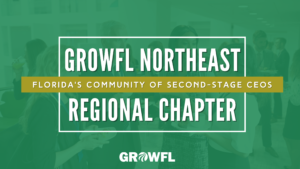 Positioned to Sell: How OnPay Solutions Grew and Attracted Notable Acquisition
Join the GrowFL Northeast Chapter for their quarterly members-only chapter event. We'll also be recognizing the companies selected as 12th Annual GrowFL Florida Companies to Watch Honorees from North Florida! Hear from Juliet Negrete-Anderson on how they positioned OnPay Solutions to be acquired by Medius.
Agenda:
5:30 – 6:00 PM: Event check and networking
6:00 – 6:15 PM: Welcoming comments and recognition of GrowFL Florida Companies to Watch Honorees
6:15 – 7:00 PM: Keynote speaker/Q&A – featuring Julie Negrete- Anderson
7:00 – 7:30 PM: Continued networking
Registration is required to attend. Drinks and Hors D'oeuvres will be provided. This is an exclusive event for GrowFL members. Second-stage CEOs, Presidents, and Business Owners who are non-members may attend a chapter event one time only.
About GrowFL Regional Chapters: GrowFL has 4 regional chapters across the state in the Tampa Bay, Southeast, East Central, and Northeast regions. Chapter members immediately become part of an exclusive group of second-stage business owners in their region and across the state. Chapter members meet quarterly for exclusive members-only events and gain access to the GrowFL network which includes subject matter experts and mentors who have successfully grown their businesses. Learn more here.
From our last chapter event:  "Inspiring thoughts from CEO's in the trenches, meeting innovative leaders from the region, and learning about the amazing businesses that make Florida great. The days of coming just for the food are past. Well done GrowFL!" – Jim Pinard, CEO, Studio Pinard