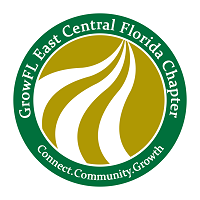 Take Care of Your People!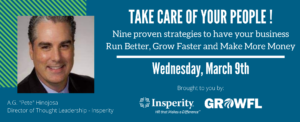 "9" Proven Strategies to have your business Run Better, Grow Faster, and Make More Money
Join us for dinner as the Director of Thought Leadership at Insperity, A.G. "Pete" Hinojosa will be presenting:
After 35 years of being in business, there are core strategies that Insperity uses to position itself as a "Best Place to Work". As a business owner, you can utilize and apply these time-tested insights to help your business maximize your people, minimize risk and streamline your processes. Through this interactive presentation, you will gain the working insights that will have your business on the road to running better, growing faster, and adding to your bottom line.
Takeaways:
– Three core questions to ask before making any business decision
– How to increase engagement and discretionary effort
– A framework to align business processes
– A mindset to go from reactive to strategic in your business
– 9 core strategies and 1 BONUS strategy for your business
Meet A.G. "Pete" Hinojosa
Whether he is being recognized by Zig Ziglar as a leader that is passing it on to the next generation or by his students as the best teacher, A.G. "Pete" Hinojosa is passionate about making a difference.
As a Master Trainer and Subject Matter Expert in the Model of Human Behavior, Pete has traveled across the country as a keynote speaker and leadership expert for over 25 years. His background as both a former educator and business owner has allowed him to connect with audiences from Fortune 500 companies to small and mid-size businesses. Pete has recently spent the last 8 years putting his strategies for leadership development into practice as he designed, developed and led the leadership training to all Sales Managers throughout Insperity's 80 + offices. Currently, Pete is the Director of Thought Leadership for Insperity, a multi-billion-dollar company where he stays on the leading edge of employee engagement, culture, and leadership development. Pete's mission has always been to help leaders drive better performance, inspire their people, support their career growth, while providing measurable results.
Registration closes March 4th!

Hourly Schedule
Agenda
5:30

-

6:30

Dinner and Networking
6:30

-

7:30

Presentation