Impresiv Health
Impresiv Health Economic Impact
Jobs
23
1050% Job Growth
2015-2019
Revenue
128%
Revenue Growth
2015-2019
About
Impresiv Health is a Florida-based healthcare consulting and staffing partner that specializes in information technology, advisory consulting, and business optimization services.
Meet Impresiv Health
Tell us about your business and the value it brings to your customers.
At a high level, Impresiv Health is a healthcare consulting and staffing partner that specializes in clinical, operations management, and software consulting services for health plans, hospitals, and technology vendors. We optimize our client's workforce and drive tangible business value across their operational teams.
At the peak of my career, I realized while working at a global healthcare and life sciences firm that there had to be a quicker, more efficient, and cheaper way to deliver the niche solutions that I was doing at the time. That was the birth of Impresiv Health.
What are some major challenges you've found in growing your business? How did you overcome them?
As Tom Brady once said, everyone time you say yes to one thing, you're saying no to another. To that end, a lot over the years has been sacrificed to make time for the company and the people who work here. As far as overcoming, I've learned how to prioritize and find life balance.
In the next few years, our biggest challenge will be to keep up with and adapt to any potential changes in the healthcare industry. Anytime there's a new administration in office, it is as though regulations become moving targets, and our services and solutions have to align to them.
Explain the culture of your organization. What's it like working at your company?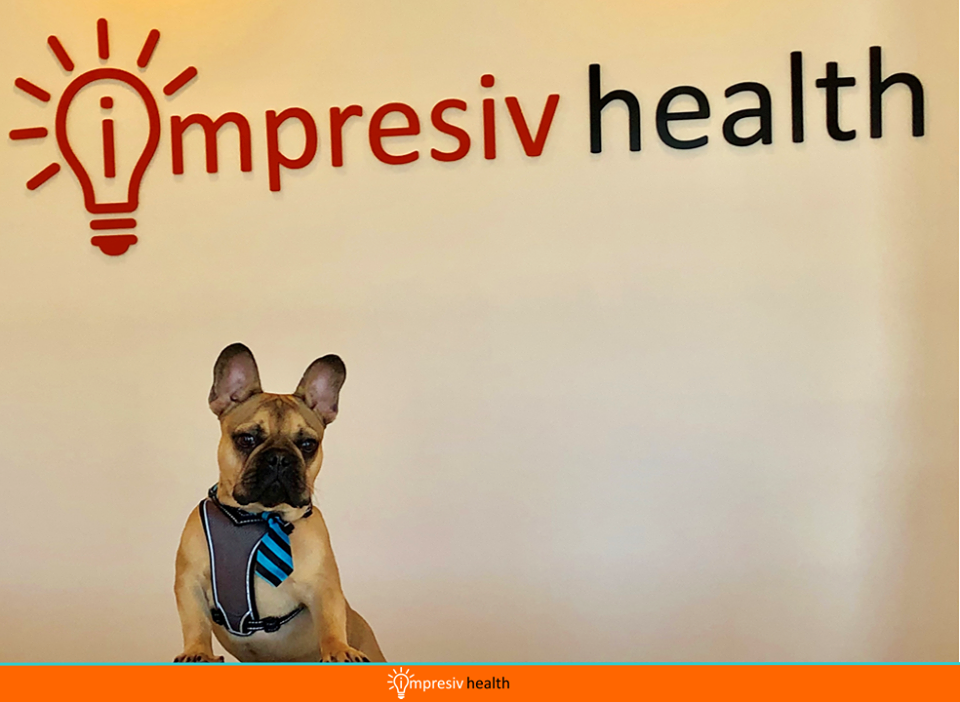 Our culture is everything. We believe in the people that we decide to hire and their amazing potential.  We provide a collaborative environment that is rich with opportunities for professional and personal growth.
Luckily, our team members are some of the brightest minds in healthcare and we an environment that fuels their passion stretches their talents and helps fulfill their vision for their career. We've developed an atmosphere where everyone brings their best to work and loves what we offer for the people that we do it for. We have an office mascot, Bruno a French bulldog who brings "pawsitivity" to work. We offer incentives that promote a work-life balance, and we give it our best when we're inside the office walls.
What's your company's competitive edge over other companies in your market?
Impresiv has a unique way of delivering our services that are appreciated by our customer base. Unlike other staffing providers, we truly know healthcare and employ physicians, nurses, and industry professionals who can relate to our customer network.
What does it mean to you to be selected as a GrowFL Florida Companies to Watch Honoree?
It's an honor to be associated with GrowFL and the other top entrepreneurs throughout the state. Personally, I am not the type of person who basks in their accomplishments but this one has been special. Our team has been involved and the interactions over the last couple of months have been great.
Is there anyone you'd like to thank?
My wife and better half, Jessica Alier who has supported me since I started the company in 2015. She's supported my commitment and sacrifices to our family, the company, our staff, and the time I've invested over the years to grow and nurture a business.
Second, our Chief Operating Officer and partner, Audra Dimitriadis. She's the real MVP and the growth over the last 4 years would not have been possible without her contributions and support. She's amazing and Impresiv is lucky to have her.
All of our employees, partners, and clients who have supported us along the way. The last couple of years have been surreal and the future is bright for Impresiv Health.
What is your advice for aspiring entrepreneurs?
Do what you love and don't chase the money. If you love what you do, and it loves you back, the money will come.
Photo Gallery