Impulse Creative, Inc.
Impulse Creative, Inc. Economic Impact
Jobs
17
183% Growth
2016-2020
Revenue
270%
Revenue Growth
2016-2020
About
Impulse Creative, Inc. is a team with experience in marketing, sales, operations, graphic design, branding and website development. Together, they help companies reach their growth potential, gain customers and sales. As a Diamond HubSpot Partner, they have a proven track record and invaluable experience utilizing inbound marketing and sales methodologies to get results.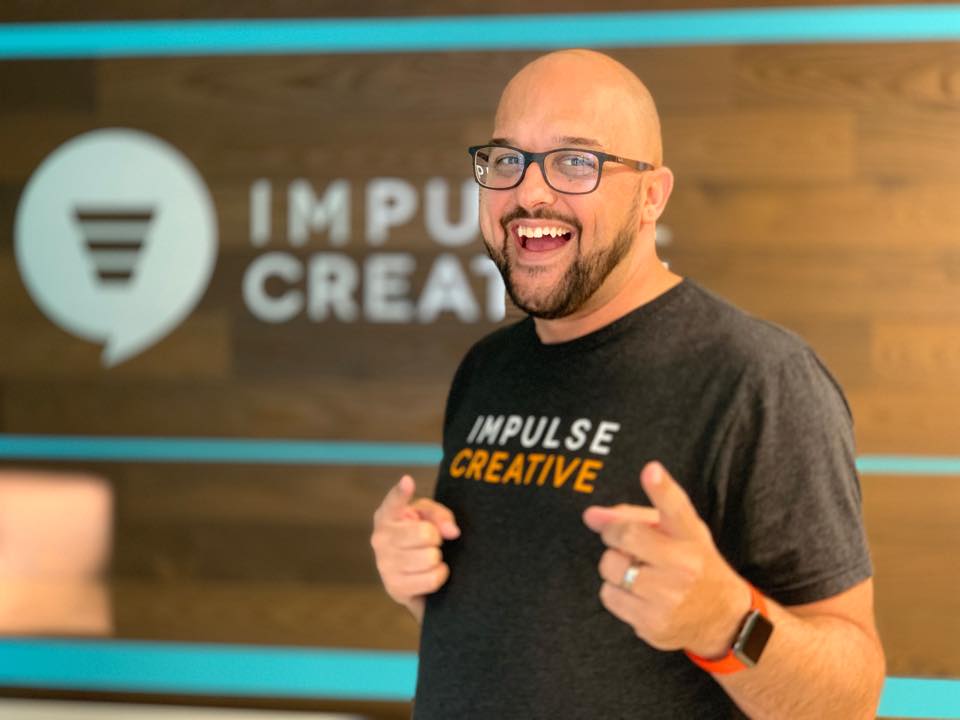 Meet Impulse Creative, Inc.
Tell us about your company and the value it brings to your customers. Was there an ah-ha moment in starting your business? 
We help enhance a company's customer experience. We bring an outsider view, and our results are happier customers. Everything we do is done in-house; we do not outsource.
Impulse was founded in 2007. When I started the company, I was running the business myself and that showed me how many different things a business owner must think about and do each day. I thought to myself, what services can we package together and offer to other business owners to make running their company easier for them.
What are some major challenges you've found in growing your business?
COVID-19 pushed 9 years of technology innovation forward in 9 months. The buzz term in the industry is "digital transformation." Every company is dealing with digital transformation, but many do not know how to operate their business digitally. COVID also retained consumers on what to expect so companies must not just rethink but also re-platform what they are offering. Our company looked at how can we cut the costs of what we are offering by 50% so we innovated while making what we offer more valuable.
What's it like working at your company?
In everything we do, we jump in with both hands and both feet. We either do it or do not do it. And we stay away from doing things halfway because we know you won't see the results we want. Each morning our team does a 15-minute stand-up before 9 am. This is a time where each member shares what they are doing, what they need help with, and what things are getting in the way of getting results. Virtual happy hours on zoom have also kept our team close and allowed for time to celebrate successes while diving into solutions for challenges.
What is your company's competitive edge over other companies in your market?
Our company is focused on intentional growth because we know that is where our clients will see results. The intentional growth could be related to profitability, scalability, or velocity. We ask questions, a lot of questions, more than are comfortable. We pretend to be your customer. We want to know about your customer's experience. It may sound counterintuitive for a growing company, but in 2019 we actually went into a smaller office space because we realized our employees could be working from anywhere and our clients aren't bothered by it.
What are the benefits of operating your business in Florida? 
Our remote employees are more than happy to come to Florida because of the weather and leisure opportunities and our clients also feel the same way. Florida is rich with diverse people, perspectives, and businesses. We chose Babcock Ranch because of its environmental focus. The time zone is perfectly aligned for our company that treats clients globally.
What does it mean to you to be selected as a GrowFL Florida Companies to Watch Honoree? Is there anyone you'd like to thank?
It is great to have the public opportunity to share what our company is doing. Being an honoree is not just about me as the CEO. It is really about our team. The team has been doubling down, executing their faces off and that is what has made this recognition possible.
My wife, Rachel. In 2008, she encouraged me by saying "you have to get serious about the business." Then, she jumped in with both hands and both feet and handled operations so I could focus on growing our customer pipeline. I'd like to thank GrowFL for sharing a glimpse of our company with the world.  Our team, each member is a piece of the puzzle that makes this all work, and lastly, our customers for letting us into their lives and businesses and trusting us.
What is your advice for aspiring entrepreneurs?
Do not pay attention to startups that have big exits because this is not the norm. There are no shortcuts in entrepreneurship. You go from having 1 boss to having 100's of bosses. Remember, you cannot lose if you care about the customer and the customer experience.
Photo Gallery