Rock Paper Simple
Rock Paper Simple Economic Impact
Jobs
13
86% Job Growth
2015-2019
Revenue
104%
Revenue Growth
2015-2019
About
The Rock Paper Simple team partners with brands they believe in to empower them to stand out and grow in an overcrowded digital marketplace. They serve them by creating compelling brand identities, marketing-focused web platforms, story-telling video and results-driven marketing support.
Meet Rock Paper Simple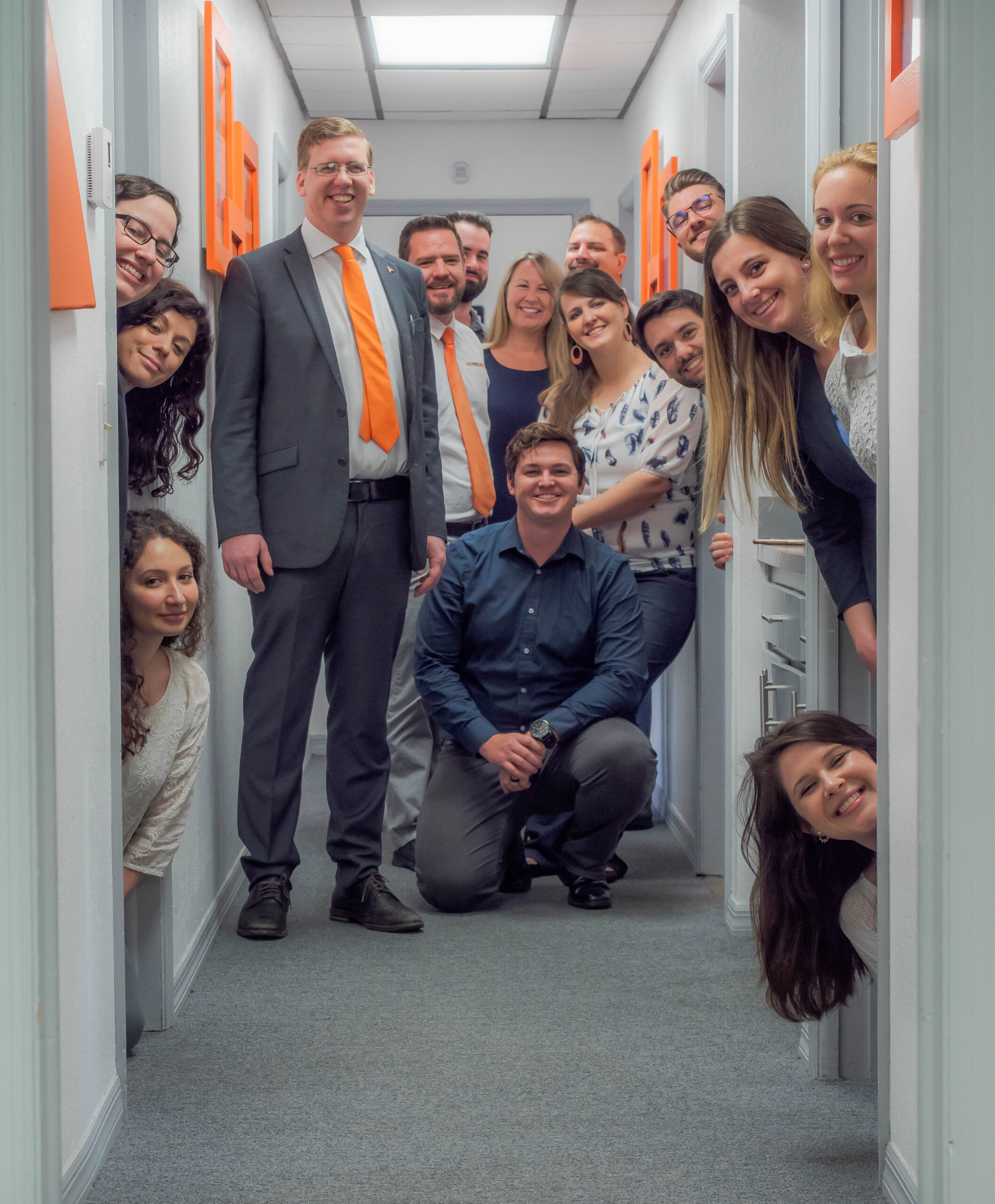 Tell us about your business and the value it brings to your customers. 
Our agency serves as our client's very own marketing department…with a very orange office! We are a team of 20 local in-house professionals that includes designers, developers, content writers, videographers, social media, and ad specialists, marketing managers, and more. The value we bring is the flexibility and marketing capability that comes with gaining access to a whole marketing team and our marketing operating system for a similar price as to hiring one in-house team member, either serving as the entire team or supplementing an existing team.
Can you tell us about the ah-ha moment that led you to your entrepreneurial journey?
Back in 2013, I had exited a partnership that was just not aligned with my values. With only a few hundred dollars to my name, a vision to create a different kind of marketing company, and lots of prayers, I started Rock Paper Simple. The key principles were that I wanted to simplify the approach to make things easy for our clients, I wanted it to be built upon a foundation of integrity and value, and I wanted it to be fun! It turned out that formula was something that a great team of people eventually rallied around and has attracted hundreds of clients!
Describe some major challenges you've found in growing your business.
One pivotal (and scary!) moment came about three or four years ago when we lost our biggest client at the time (now, they would translate to one of our smallest).
We sat down and discussed what we felt we were missing in our offering that the client would choose to go with a larger Orlando agency, rather than a local one. Shortly thereafter, one of our best clients flew down from Nashville for a meeting with us and shared some things he was hoping we could start doing for his company.
Between the loss of our biggest client and that conversation with Bryan, we started down the path of creating our Marketing Partner program, based on what we felt our ideal client was looking for – basically a plug and play team that could serve almost as if it were in-house, with a variety of skills, transparency, and a purposeful approach. We've innovated on that model ever since to great success, and owe the whole offering to losing that one big client.
Explain the culture of your organization. What's it like working at your company?
This is something we are very proud of. We are a culture that likes to have fun but knows when to work hard, that innovates and collaborates together to do better… always looking forward.
We believe it is key to lead well and that leading well means to "Empower Talented People"… letting talented people do what they do best and bring them together in a way that everyone is stronger for.
One of the first things a potential new hire is told is that every team member has a voice and we expect each of them to contribute to making us a better company. Their voice will be respected, and they must respect each other's voices. If they see a better way of doing something, to absolute weigh-in and innovate. No system or process is safe. There is no such thing as 'well, we have always done it that way when there might be a better way.'
The second thing they are told is that we don't allow egos here. We are a team and we will always work together for what is best for our team, our clients, and our community.
Our core values are Integrity, Growth, Simplicity, Teamwork, Community, and Fun, and these contribute greatly to the culture here at Rock Paper Simple. One way we celebrate these core values is with our monthly You Rock Award. Each month the previous winner, chooses a team member (we never use the word employee), to pass the trophy along to, along with $50 from the company, but they must always present it in a creative way. That might be a poem, a song, a video, or simply some kind words, that explain why the team member exemplified one or more core values that past month.
We also have all sorts of fun together with regular team-building activities such as boat outings, escape rooms, costume parties, Christmas parties, and the like. We have even had dance parties and costume parties digitally during the pandemic! We have found it even more important, as we are all remote, to do fun activities via Zoom to keep the team engaged and feeling like a team. Some of our best performing social media posts are from some of those activities!
Explain your company's competitive edge over other companies in your market.
Our Marketing Partner Program and the way we work with our clients is a huge edge for us. The way that offering allows us to work with our clients, the diversity of our in-house team's skillsets, our marketing operating system, and our depth of experience all come together for something truly unique. An additional strong differentiator is also in our video capabilities. We have a three-person video team, and a fully equipped 1200sqft studio on-site, so layering video into our client's efforts is seamless.
What does it mean to you to be selected as a GrowFL Florida Companies to Watch Honoree?
It means that the team behind Rock Paper Simple is doing something extraordinary and I'm proud of them all for that. It means that they have stepped up and made something awesome happen. We often say that the job of our leadership team is just to "Empower Talented People" and it will be exciting to see what this fun, energetic, and hard-working group of talented people do next! An award like this one is a good indicator that we are headed in the right direction.
Is there anyone you'd like to thank?
My parents instilled a strong work ethic in me from a very early age (funny, now they are the ones telling me I need to take a break, haha!), so I definitely want to give them a shout-out. The RPS team, both past, and present deserve a huge thanks for making this happen. Without all of them, we just can't have built what we've built. I am also going to have to mention the dozens and dozens of mentors who have spoken into my life over the years. I don't have room to mention you all, but I am always learning to be a better leader and I have many many of you to thank for that. Finally, thank you to my incredible wife, Diana, for all of her support, what she does for the team, and for her belief in what RPS is and can be!
What is your advice for aspiring entrepreneurs?
I have three for you. First, ever forward! Life and business can be tough and you will fail. But failing is just a new opportunity. I've failed more times than I can count, but each time I am better for it and it allows me to go for bigger wins. Always, always go forward. Learn the lessons when you fall, but then get up and keep going, armed with new wisdom.
Build a fantastic team that isn't like you! You will need different people with different strengths and different ways of thinking. Build a team that will allow you to do more than you ever thought you could, treat that team well, lead them well and be willing to learn from them too.
And finally, seek advice and wisdom from those who have it. Never be ashamed of saying I don't know and don't posture yourself to look impressive when you could humble yourself and ask the question…because that will make you a better leader.

Photo Gallery