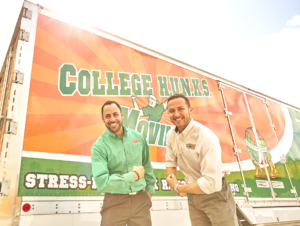 With 140 franchises across North America, you've likely passed a bright orange and green moving truck on the highway. If the colors didn't catch your eye, 'College H.U.NK.S. Hauling Junk' along the side probably did. What started after he borrowed his mom's cargo van, Omar Soliman's journey as co-founder and visionary of College HUNKS Hauling Junk & Moving has been one of innovation, grit and growth. Beginning in 2003, Soliman started the business and still runs it today with his best friend from high school, Nick Friedman.
"I didn't even know what the word entrepreneur was growing up. My friends and I drove around in my mom's beat up cargo van that had no air-conditioning, helping people move which was hard grueling work," Soliman said. "But, it was the first time in our lives that we found something that we were passionate about. Not necessarily passionate about moving or hauling junk but being our own boss."
Fast forward a few years later during his senior year at the University of Miami, Soliman was introduced to a competition that would end up taking College HUNKS Hauling Junk & Moving to new heights.
"On the first day of class, my professor made the announcement about a business plan contest and the first prize was $10,000 which definitely made me perk up. I decided to submit a business plan as a year-round junk and moving service and ended up winning first place. That's what gave us the motivation to start the business," he said.
After expanding into franchising in 2007, College HUNKS Hauling Junk & Moving is the only full-service residential and commercial service company that offers moving, junk removal, donation pickups, and labor services in the United States as well as Canada.
Company Philosophy
"We always say were not really a junk removal and moving company, we're a purpose driven tech enabled socially conscious company," Soliman said.
To the team at the College HUNKS Hauling Junk & Moving, their motto' is at the center of everything they do. "It has a double meaning; our aspirational vision is to move stuff all over the world, but we also want to move people through a positive emotional experience with our company," he said.
In the top five most stressful life events, moving lands at number three, behind death and divorce. Knowing this, College HUNKS Hauling Junk & Moving is committed to making the moving process easy and smooth for their clients.
"If you read some of our reviews, some will say that their move was a Disney-like experience – and Disney and moving should never be in the same sentence. When people are calling us, they're usually going through some major stress in their life and we want to come in and provide a stress-free experience," he said.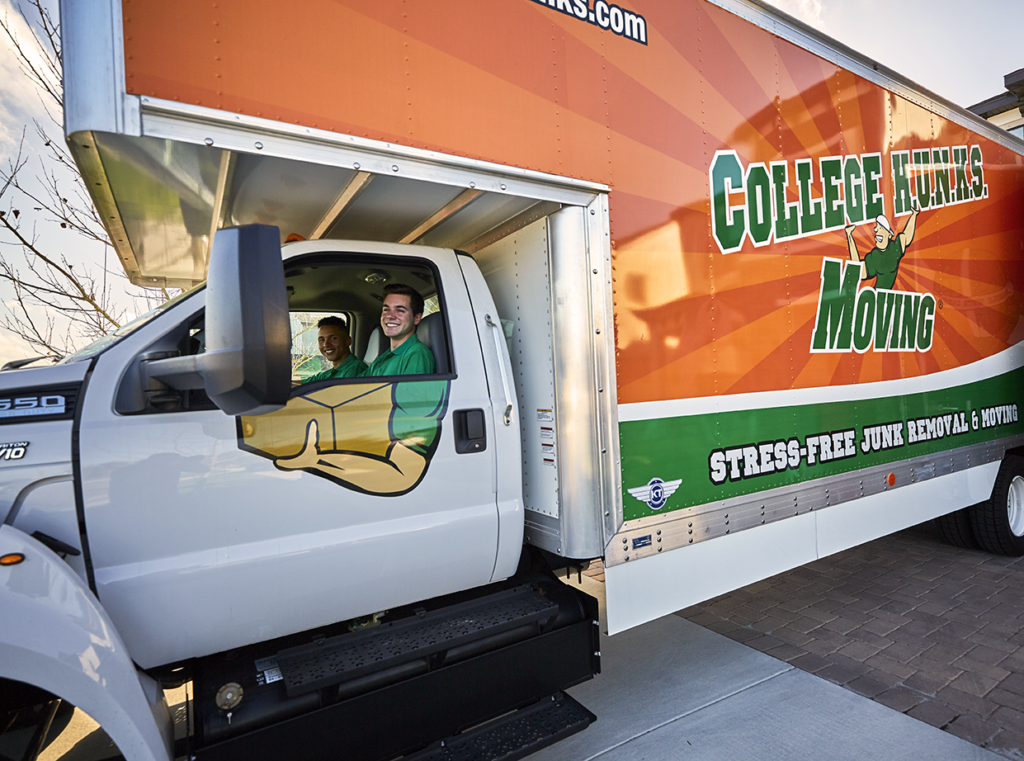 Overcoming Challenges
"When I talk to young entrepreneurs I use the analogy that owning a business is like a video game the levels get harder and more complex as you get further along in the game and it's the same in business," Soliman said.
It's no doubt that this year might've been the most challenge level yet for business owners. For Soliman and his team, the height of operating brought new challenges – especially those unknown.
"It was a bit of an evolution, when COVID first started I think there was a lot of fear because there was so much unknown. It was the first time in a long time that I had sleepless nights. Business was affected in the early weeks because things were shut down, we didn't know what was going to happen and clients were focused on staying safe for themselves and their families," he said.
Thankfully, moving services and junk removal were deemed essential, relieving much of the stress but presenting new challenges to adapt.
"We started offering contactless junk removal. We noticed a lot of people that were working from home realized they had a lot of junk in their house or they needed to create new spaces like offices or gym spaces," he said. "People really took advantage of that and still are."
Are they really all H.U.N.K.S?
"H.U.N.K.S. is an acronym for honest, uniformed, nice, knowledge, service – so the response to that is yes they are all H.U.N.K.S! The quality of our team members is the differentiator between us and other companies," he said.
At College HUNKS Hauling Junk & Moving, company culture isn't just a buzz word, it's everything. Soliman compared a company with no culture is like a picture frame with no picture.
"The bones of the company might be good but if there's no picture than there's nothing there. Our company is so complex, we've got franchises all over North America and the only way to ensure quality across all locations is to build a strong culture. Whether it's the bright orange and green colors or the basketball hoop in the office – or maybe a pool table – you're going to feel our culture as soon as you walk in the door."
Giving Back to the Community
College HUNKS Hauling Junk & Moving has always made giving back to the community a priority and in the past year has implemented another amazing way to do so.
"During COVID, we came up with the idea to offer free moves for domestic violence victims. We partner with shelters and the police to move them for free to a next, safe step for them. We've already done well over 200 moves across the country," he said.
They also have an ongoing effort of linking arms with Feeding Children everywhere, donating two meals for every job that's completed.
Advice for Aspiring Entrepreneurs
From being selected as GrowFL Florida Companies to Watch Honoree in 2013 to landing on the 2020 Inc. 5000, Soliman's advice to aspiring entrepreneurs boils down to grit. "It's important to be able to communicate your vision to the people around you. Then take the hard times as they come and dig down deep until you come out on top," he said.