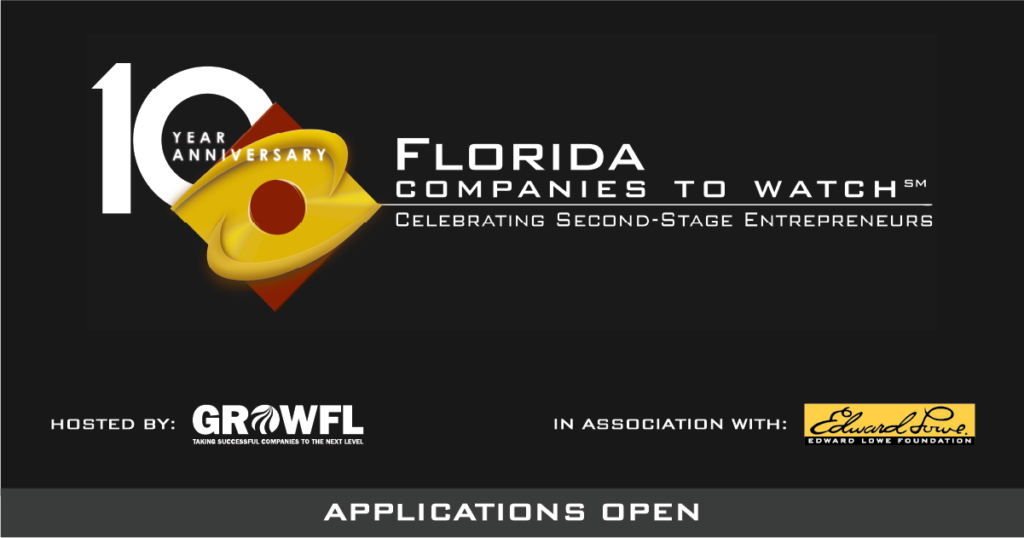 GrowFL, Florida's leading organization in support of second-stage growth companies, is now accepting applications for its annual Florida Companies to Watch® awards program. Now in its 10th year, the GrowFL Florida Companies to Watch program honors notable second-stage business throughout the state. Honorees are selected for developing valuable products and services, creating quality jobs, enriching communities, and creating new industries throughout Florida.
Eligible applicants must be privately held, second-stage commercial enterprises. Qualifying companies must also be headquartered in the state of Florida, employ between 6 and 150 employees, and earn between $750,000 and $100 million in annual revenue. A selection panel of judges representing areas of finance, technology, entrepreneurship and small business select honorees that have demonstrated past and future growth opportunities, entrepreneurial leadership, product innovation, community responsibility and competitive business practices.
"Over the past nine years, we've celebrated 450 second-stage business who share the same unwavering entrepreneurial spirit and drive to scale their businesses," says Dr. Tom O'Neal, GrowFL Founder. "Now, in our 10th year, we are excited to celebrate another group of impressive Florida business owners and present them with this prestigious award. There's something special about Florida entrepreneurs and they should be recognized for their innovation and impact on our state's economy."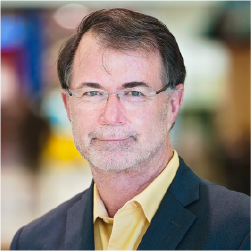 After being selected as a 2019 GrowFL Florida Companies to Watch Honoree, VeraData CEO Michael Peterman said, "It legitimizes the things we are doing and lets our employees and clients know that we are a winning company. This recognition gives everyone a comfort level, including me, that we have really done something cool here."
Previously held at venues like the Straz Theater in Tampa and the Hard Rock Live in Orlando, honorees and their team, family and friends can enjoy a night dedicated to celebrating them and their businesses.
"Everything from arrival to departure and beyond! It was great to have an opportunity to spend time with so many brilliant second stage companies and compare notes, share some stories and laughs, and talk about our futures," said Debra Bowers, vice president of Skybolt Aerospace Fasteners., a 2017 GrowFL Florida Companies to Watch honoree.
GrowFL is a statewide economic development organization and hosts the awards program in partnership with the Edward Lowe Foundation, a national, nonprofit organization that supports entrepreneurship through research, recognition and educational programs. The foundation focuses on second-stage companies — those that have moved beyond the startup phase and seek significant, steady growth. GrowFL, in turn, helps second-stage companies in Florida overcome obstacles and leads them towards prosperity by providing strategies, resources and support designed to prepare them for next level success. A typical Florida Companies to Watch class is comprised of businesses who collectively gross over $450 million in annual revenue, add more than 350 new jobs per year, average a 30% increase in earnings and experience almost 20% growth in employees annually.
Applications are open through August 7, 2020. For more information and to apply for Florida Companies to Watch, please visit https://growfl.com/flctw20/about-flctw/.