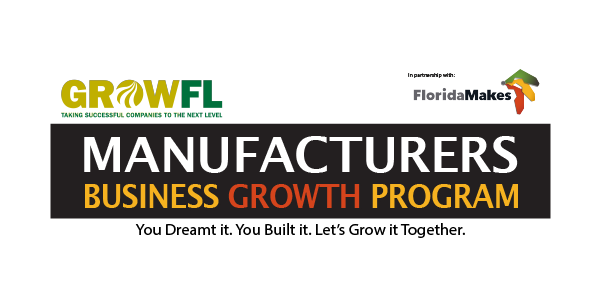 Program Designed to Assist Existing Business in Florida
Orlando, FL (January 10, 2018) — GrowFL, in partnership with FloridaMakes and the Edward Lowe Foundation, is kicking off a new Manufacturers Business Growth Program for second-stage manufacturers and manufacturing-related companies in February 2018. Only 15 slots will be available for this first round of participants; the deadline to apply is January 31.
The Manufacturers Business Growth Program includes a year-long curriculum for CEOs, presidents or business owners, and their sales and marketing teams, who are looking to grow their company or address challenging business problems.
"The concept behind the program is to help second-stage companies grow their topline revenue," said Dr. Tom O'Neal, executive director of the Florida Economic Gardening Institute and associate vice president for the University of Central Florida's Office of Research and Commercialization. "This way companies can create more jobs that will help the economy prosper," he said.
GrowFL's program includes Strategic Research and CEO Roundtables. The roundtables are available in the traditional in-person format located in Florida's major markets, or in a new virtual format open to participants throughout Florida, no matter where you are located. GrowFL is seeking participants for this program who are exclusively in manufacturing and manufacturing-related industries.
"The insights that GrowFL has provided through Strategic Research and CEO Roundtables, and the work they've done to help our team, has made this venture successful," said Glenn Williams, president of Bell Performance. "We're adding more jobs and expanding the reach of the service division as we continue to work with GrowFL. If we didn't have GrowFL working alongside us, we wouldn't be in nearly the good position we are right now. It would have taken a lot longer to figure out the pieces of this puzzle," he said.
Strategic Research allows participants to better understand competitors or diversify into new markets through assistance provide by a team of highly skilled research specialists who provide customized research. These specialists leverage sophisticated corporate databases, geographic information systems, SEO and Web marketing tools to help companies improve top-line revenue through these areas of assistance:
Refinement of core strategy and sustainable competitive advantage.
Identify market trends, potential customers and competitors and untapped resources.
Map geographic areas for targeted marketing.
Raise visibility in search engine results and increase web traffic.
Track websites, blogs and online communities to better understand your competitors as well as your current and potential customers.
CEO Roundtables are conducted in person or as video conferences and are ideal for time-pressured leaders of second-stage growth companies. The sessions are led by trained facilitators using a roundtable method that emphasizes confidentiality throughout, allowing participants to delve into their most challenging issues. In-person roundtables are in partnership with CEO Nexus, and virtual tables are offered in partnership with the Edward Lowe Foundation. As part of the Roundtable, participants will gain access to new ideas on everything from marketing strategy and financial issues to dealing with difficult personnel problems. The Roundtables also spark accountability and shared experiences with other CEO participants and will help build a strong bond among members.
Owners, Presidents or CEOs of second-stage manufacturing companies interested in growing top-line revenue are encouraged to apply as soon as possible to secure a spot. Space is limited.
For more information about GrowFL's Manufacturers Business Growth Program and to complete an online interest form, visit: www.growfl.com/floridamakes
For questions, contact Tammie Sweet at [email protected].
###
About GrowFL:
GrowFL was created in 2009 as a statewide economic development program focused on assisting second-stage growth companies prosper in the state of Florida. By providing strategies, resources and support to second-stage companies for next level growth through Strategic Research, Peer Learning and Leadership Development, GrowFL helps companies overcome obstacles to growth and leads them towards prosperity. Based on the philosophy of Economic Gardening®—to grow existing businesses in a community, region or state—GrowFL is a critical component to the state's economic development strategy and Florida's entrepreneurial ecosystem. GrowFL is part of a network of organizations certified by the National Center for Economic Gardening through the Edward Lowe Foundation to provide support to scalable growth companies. Visit www.GrowFL.com
About the Edward Lowe Foundation
Established in 1985, the Edward Lowe Foundation is a national, nonprofit organization that supports entrepreneurship through research, recognition and educational programs, which are delivered through entrepreneur support organizations (ESOs). The foundation focuses on second-stage companies — those that have moved beyond the startup phase and seek significant, steady growth. In addition, the foundation has a mission of land stewardship and is committed to preserving the natural resources and historically significant structures at Big Rock Valley, its 2,000-acre home in southwest Michigan.
About FloridaMakes
FloridaMakes is an industry-led public-private partnership established in 2015 to improve the productivity and technological performance of Florida manufacturers and strengthen the state's high-wage manufacturing economy. FloridaMakes is the official representative of the MEP National Network and NIST MEP in the State of Florida and provides services through Florida's existing network of Regional Manufacturers Associations and other partners to support Florida's more than 20,000 manufacturers. Services are customized to meet the needs and opportunities of individual companies. FloridaMakes operates with support from the State of Florida, NIST and Florida's manufacturers. For more information, visit www.floridamakes.com