Accusoft- Looking Toward the Future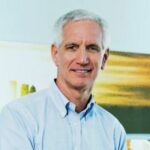 Jack founded Accusoft (Pegasus Imaging) in 1991 and as President and CEO has provided consistent leadership and strategic direction for the success of the company. Jack is actively involved with sales, product strategy, software development and the necessary financial controls that have made Accusoft profitable year after year. In recent years, he has overseen Accusoft's active merger and acquisition activities that have contributed to the company's growth and product line expansion.
He is very involved with the local community and currently serves on the Hillsborough County Parks, Recreation, and Conservation Board as Vice-Chair and on the Environmental Lands Acquisition and Protection Program (ELAPP) site selection committee. Past local community organizations including serving as Chair of the Canal Advisory Committee, as chair of the NFL YET Tampa Bay Committee, and as a member of the Cone Ranch Technical Advisory Committee. Accusoft is Jack's second company, as he founded and sold the successful computer hardware company IntelliCom during the 1980's. Jack earned a Master of Business Administration from the Fuqua School of Business at Duke University.
Accusoft offers a robust portfolio of document and imaging tools created for developers. Our APIs and software development kits (SDKs) are built using patented technology, providing high performance document viewing, advanced search, image compression, conversion, barcode recognition, OCR, and other image processing tools for use in application and web development.