The JUNE CEO Forums held in Central Florida, Tampa Bay and South Florida brought together the largest number of CEO's to date! The agenda in all three locations was packed with CEO's sharing their entrepreneurial journey along with recognition of the 2017 Florida Companies to Watch Finalists who were in attendance.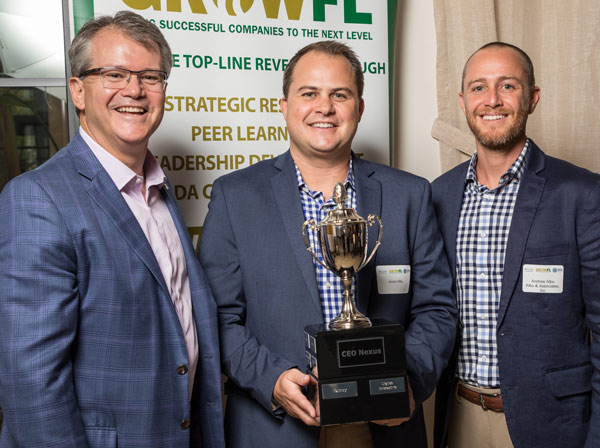 Central Florida – June 14, 2017
Jason Albu was honored with The CEO Nexus Cup and spent a few minutes sharing his journey with Albu & Associates. He shared his story from the company being founded in 1994 by Jason's father George Albu a Brazilian Immigrant and his involvement with joining and helping to build the business initially out of their home. They experienced steady growth even recruiting his brother Andrew to be a part of the family business until 2011 when the economy crashed and George decided to retire. This left Jason and Andrew with control of a general contracting and construction management firm with no direction and no idea of what direction to go. Jason and his brother turned to the GrowFl CEO Roundtable programs and through this were able to learn from other CEO's to build what is today a very successful firm with offices in Central and South Florida.
Our featured speaker Waymon Armstrong, Founder and CEO of Engineering & Computer Simulations Inc. (ECS) captured the audience with the story of his turbulent entrepreneurial journey.20 years ago, Armstrong started ECS with a vision, a lot of passion and his personal life savings. After three years, the company was not generating enough revenue to pay him even a small salary. Armstrong had remortgaged his home, invested the last of the life savings, and incurred $300,000 in credit card debt. His accountant encouraged filing for bankruptcy, but Armstrong continued and ultimately landed ECS's first large assignment for the U.S. military. But the story did not end there! There were multiple set-backs through the years including layoff's which Waymon shared was definitely the "darkest time of his career". When asked by one of the attendees what would you change if you could, Waymon indicated he would have let go of staff when the company took a downturn instead of holding on and going into debt. Eventually he still had to lay off so the end result did not change but instead incurred even more debt trying to delay the inevitable. Today Armstrong has more than 100 employees and the company has expansion into private health care, transportation, energy, and other industries which triggered the opening of new markets for the greater MS&T industry, contributing to its overall growth.
South Florida – June 14, 2017
Mr. Kay, a 30-year veteran of the business aviation industry, is focused on providing the strategy and vision that will enable ATG to be the leading manufacturer of power shade systems in the aviation industry. Previously, he was Director, Completions Team for B/E Aerospace – Aircraft Modular Products in Miami. He managed a team of sales, engineering and program management personnel, and was responsible for $15+ million in annual revenues. Prior to this position, Mr. Kay was the Program Director for B/E's innovative Premium Cabin Concepts integrated interior kit program for the Bombardier Challenger. Mr. Kay has also held operations management positions at Gulfstream Aerospace, as Manager of Service Center Interiors, and at Raytheon Aircraft. He is also a licensed pilot (in helicopters and gliders, as well) and a certified flight instructor with over 6,500 hours' total flight time in aircraft and helicopters, has obtained seven jet aircraft type ratings, and possesses both UK CAA and US FAA Airline Transport Pilot licenses. Mr. Kay holds an MBA from Georgetown University and a Bachelor of Science degree in Professional Aeronautics from Embry-Riddle Aeronautical University.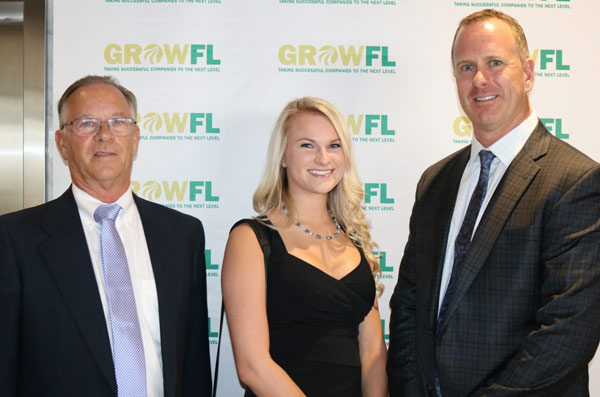 Tampa Bay – June 20, 2017
Steve Schwartz, CEO from Quality Enclosures shared his story of overcoming a cultural barrier and how learning to innovate instead of just copying the competition has created the roadmap to success for Quality Enclosures!
Steve shared some of the struggles from the beginning days where they spent 5 years trying to overcome the cultural barrier of a family from New York selling to businesses in Florida. "One of biggest obstacle was industry lingo, shower enclosures in the North were called Step In's and in the South they were called a Shower Stall". So this created different names and part numbers for the same product so the lingo matched the customers' needs. Great for the customer but not so great for streamlining a growing company! They recently went through the process of renaming and issues unique part numbers which reduced their product numbers from 6000 individual numbers down to 1400.
A few key points from Steve:
A good name is SO important to people understanding what you do!
Be frugal, maintain good credit, have cash on hand and consider areas where potential revenue lye. By doing all these it allowed Quality Enclosures the ability to stop outsourcing their glass and become the largest user of glass in the State of Florida!
Stop the band aids! If you are bleeding and you put a band aid on, it is only a temporary fix and if left on too long it will leave a scar!
Innovate! Bring your team in to make logistical and strategic decisions around not how to do the same thing others are doing better, but how to do is more effective and efficient!
Your company culture will either kill you or help you rise to the top!
Duplicate yourself! Regardless if it is one individual or multiple coming together to fill your one roll, you won't be able to grow to the next level unless you can successfully accomplish this!
Define what makes you different! For Quality Enclosures they guarantee on-time delivery, that your order is 100% accurate or they will send a truck to your company that day! And Steve shared a few stories on how they were tested with their guarantee but always stuck to it. That earned them customers for life!
Steve closed by saying "customers buy from Quality Enclosures because of the company culture, and that culture starts from the top down. My customers know I am willing to get my hands dirty and I know every screw in our inventory and the story behind it! And that culture is in our leadership all the way down the line". Of all the great tips shared the underlying consistent message throughout Steve's entire presentation was building a successful company culture is not only the secret sauce to Quality Enclosures growth but something that really should be at the root of all our businesses!
The CEO Forums are held in March, June, September, December currently in Central Florida, South Florida and Tampa Bay with other locations coming soon.
Central Florida – Monday, September 18, 2017 @ The Alfond
Tampa Bay – Wednesday, September 27, 2017 @ USF
South Florida – More Information Coming Soon!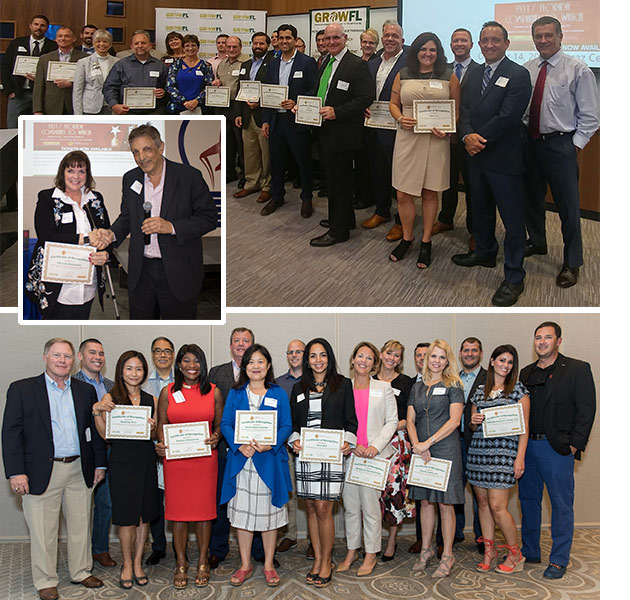 During The CEO Forums we also celebrated the 2017 Florida Companies to Watch Finalist in the Central Florida, Tampa Bay and South Florida markets. Almost 30 of the 92 companies were able to join us to be honored and have an opportunity to network with peers and participate in The CEO Forums. These organizations were selected as finalists based on steady growth in employee counts and revenue as well as strength in leadership, corporate culture, community support and philanthropy, innovation in management or technology, or other factors that contribute to an outstanding organization. Final judging is taking place now so stay tuned for the announcement of the winning companies which will be officially released on July 18th.
Companies to Watch was developed by the Edward Lowe Foundation as a unique way to recognize and honor second-stage companies that demonstrate high performance in the marketplace with innovative strategies and processes, making them "worth watching." Presented by GrowFL, in association with Edward Lowe Foundation, Florida Companies to Watch is an awards program like no other. Companies from across the state and all industries may participate. Join us in Tampa on October 14th to celebrate our 2017 honorees.
October 14, 2017 | Tampa, FL | Straz Center for the Performing Arts