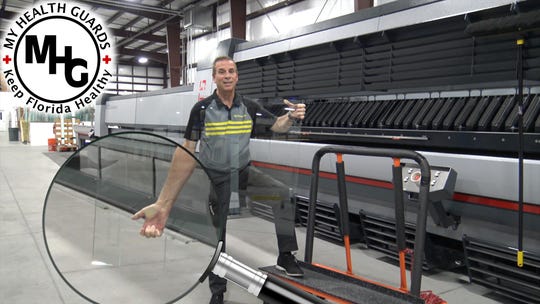 Known for their award-winning shower doors, 2013 GrowFL Florida Companies to Watch honoree, MY Shower Door, has expanded their expertise to keep businesses, and the customers they serve, safe. Their newly constructed glass plant in Fort Myers is certainly ramping up production, but now, more than shower doors are leaving the building.
To help reduce the spread of COVD-19, Bill Daubmann, president of MY Shower Door/D3 Glass, and his team created their state-of the-art My Health Guards. Like "sneeze guards," My Health Guards are custom protection shields that are ready for rapid delivery across the state. For employees and customers alike, in register aisles, cashiers' counters, food buffet areas and offices, this is a proven way to reduce their exposure through direct droplet transmission.
"The big-name retailers like Costco and Publix went with the thin plexiglass sheets, which serves the purpose, they were quick and inexpensive, but it's not a long-term solution," said Daubmann. "Ours would be more costly, of course, but they're made of glass and you need the heavy-duty hardware to hold it in place."
As businesses across the state begin the process of determining how to safely reopen, Daubmann says the interest in their MY Heath Guards have peaked as well.
"We're working with Collier County right now, for instance, they're wanting to put shields in the tax collector's office to prepare for when the public starts to come in," he said. "The smaller individual business owners that don't have a lot of area are the ones that are going to be calling us."
Like a shower door is unique to each home, the shields aren't one size fits all; they're made to order specifically to fit the needs of each business.
"Where you put the cutout in the glass depends on each business and what they want covered. Where they have the cash register or where their credit card reader is, will all be a little bit different," he said.
Although the guards being produced right now are in light of COVID-19, Daubmann says that the My HeathGuards can continue to be beneficial beyond this pandemic.
"I think a lot of people are starting to realize that these are for coronavirus, but would work just as well for the flu, which comes around every year. People were hesitant at first because of cost and maintenance. Things like always keeping the glass clean, how good is it going to look, is it aesthetically pleasing in our office? Which is where glass will beat plexiglass, hands down," he said.
"Now, small business owners are more aware and as they go into the big names like Costco and Publix and see it being done, they think we can do that for our business too."
Daubmann and his team can also construct temporary offices with large glass panels where individuals can work and be contained and separated from the general population, if needed.
To other business owners operating through COVID-19, Daubmann says keep your employees and staff safe and keep communicating with them during this.
"The other advice I'd give is to make sure you apply to any agency that may give you financial assistance during this period," he said. "And, be on the lookout for good, capable people who have been laid off and in need of work."
MY Shower Door/D3 Glass was selected as one of the 250 Most Successful Companies in Florida in the Inc. 5000 Series, demonstrating a 2-year growth of 59%. They were the only glass company on the list!
How to Buy
If you're interested, all inquiries can be sent to Bill Daubmann at : bill@myshowerdoor.com or call 239-689-8402.