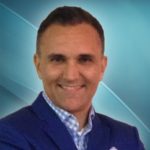 Josh Buttitta, founder of Oakhurst Signs, always knew he wanted to own his own business. After selling his first startup in 1996, he still had the entrepreneurial drive, but he did not have an idea to channel it to.
"I had worked for myself from an early age so I took jobs to learn more," he said. "When I started this business, I knew nothing about making signs. With my marketing background, I marketed the heck out of it. I jumped in and said I can figure this out. I put an ad out online, and it just worked."
Oakhurst Signs designs and makes architectural signage including monument and entry signs, wayfinding and amenity signs for apartment complexes.
"We're not a fast, quick-print sign shop," Buttitta explained. "We don't do large programs either. We have a very niche market that fits in between what most sign companies do. We are known for being very creative, very responsive and timely."
Buttitta is an entrepreneur who constantly looks for ways to improve, which is what led him to work with GrowFL.
"The GrowFL CEO Roundtable program has been great for me," he said. "Business growth has skyrocketed since joining that group. They've given me a lot of advice and listened to my challenges. They are mentors I bounce ideas off. They also contribute better ideas than I was considering. The group helps me make sure the company is doing everything it can to succeed."
Buttitta's advice for aspiring entrepreneurs is to focus on your profit margins. "Find a product with good margins that you can sell lots of," he said. "Take your time but work hard and focus. Find a product that people need in an industry where you competitors mostly fail to deliver."