JMX Brands Experiences Surge in Revenues, Growth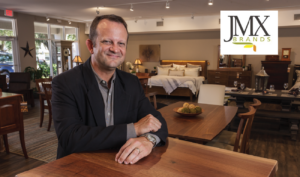 The JMX family of brands is quickly becoming one of the most recognizable and successful enterprises in the country. Founded in 2003 by Jim Miller, what started out as a small, local company in Sarasota has evolved into becoming the world's largest online-only retailer of Amish furniture. While their signature brand is DutchCrafters, JMX is also the parent company of Garden Tones, JMX Bamboo and Ocean Fare.
Miller teamed up with GrowFL starting in 2013. At the time, JMX was embarking on an effort to open the company's brand up to more business-to-business (B2B) customers. Although JMX had a plan in mind, GrowFL encouraged Miller to participate in a team led Strategic Research study to determine the best approach for their growing enterprise. The project involved several key persons from the JMX team. Staff received vetted research reports prior to meetings, giving them time to digest and understand the findings and develop relevant questions. As the exercise progressed, the team identified an alternate – yet more effective – approach to reach the company's desired sales and expansion goals.
"It was invigorating to watch the process," says Stephanie Kempton, team lead for GrowFL. "JMX started with a strategy, but through teamwork and research, discovered a more effective and streamlined approach to reach their target market. This exercise saved the company from heading down a path that would have proven not to be nearly as successful or profitable."
As a result of their work with GrowFL, JMX has grown substantially. In 2012, the company employed 10 and earned $2M. Revenues grew by 106% in 2013 and again by 59% in 2014. Today, employees have more than doubled to 29 and earnings have surged to nearly $9M. Customer service has remained a foundation of the company's success, even during times of peak growth.
As a 2016 Florida Companies to Watch Honoree, they also boast a 4.7 Rating on eKomi and similar scores on other review sites. JMX is considered one of the fastest growing private companies in the United States, making the 2014 Gulf Coast 500, Inc. 5000, and Internet Retail 1000 lists. "The CEO roundtable was particularly helpful as it afforded me opportunities to learn and share with peers from similar fast-growing companies in our community," says Miller. "This allowed me to sharpen my strategic focus and question some of my assumptions. We used the strategic research to help us better understand our customers, avoid a B2B initiative that might have been a costly mistake, better understand our sales process, and develop some clarity about the purpose that our new facility will provide."
Joan McGill, Vice President of the Business Development for the Economic Development Corporation of Sarasota County, has worked extensively with JMX and observed the direct benefits GrowFL has brought to the table. "Mr. Miller is an enthusiastic participant in GrowFL," explains McGill. "He considers the CEO Roundtable to be his 'board of directors' and seldom misses a meeting. He also has had a great experience with the Strategic Research program this year and received information that will help grow his customer base and, in turn, his bottom line." McGill was pleased with how GrowFL partnered with the EDC to deliver the program on a local level.
"The growth and success of JMX Brands confirms and solidifies the EDC's partnership with GrowFL," says McGill. "Sarasota County is a community of entrepreneurs, like Jim Miller, so the resources offered by GrowFL are invaluable to our business retention and expansion program. As a small EDC, our staff and financial resources are limited and couldn't possibly support the program that is offered by GrowFL. Their professionally facilitated CEO Roundtables', layered with sophisticated Strategic Research capabilities and access to sophisticated data, provides our CEOs with solid information to guide the growth of their companies. JMX Brands success, along with others, is rewarding and endorses our investment in GrowFL."
According to Miller, GrowFL offered tools to help him and his executive team think carefully about their company from a strategic point of view – well beyond operational and tactical issues – and the accountability to continually keep their eyes on the "bigger" picture. JMX has outlined a series of lofty goals for the future. If the past two years are any indicator, the company will prove to be one to watch.
Program Partner: