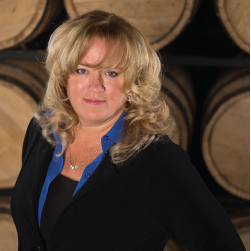 In 2010, while reading about the Florida sugar industry, JoAnn Elardo started thinking about manufacturing a Florida product, using Florida ingredients. She wanted to create something that would be distributed and sold in Florida, then expand to other states, and to bring people to Southwest Florida—so began Wicked Dolphin Rum Distillery.
In 2012, she purchased a 7,200-square-foot, foreclosed building in Cape Coral, and renovated it into a working distillery. Wicked Dolphin Rum uses 100% Florida Sugar, local ingredients and is handcrafted in small batches using an American made copper pot still, the largest in South Florida. The family run distillery produces seven award-winning rums & vodka's available throughout Florida and the Southeastern United States. Free tours are given weekly at the Distillery's Cape Coral location. 2015, land was purchased South of the Distillery for expansion in 2018.
Wicked Dolphin has won numerous awards in the Spirits industry including Golds in The Miami Rum Renaissance, The Madrid International Conference, American Distillers and The American Craft Spirits Association. In 2016 it was also awarded from USA Today as the #1 Craft Rum Distillery in the USA as well as selected by GrowFL as one of fifty Florida Companies to Watch.

Brought to you by: