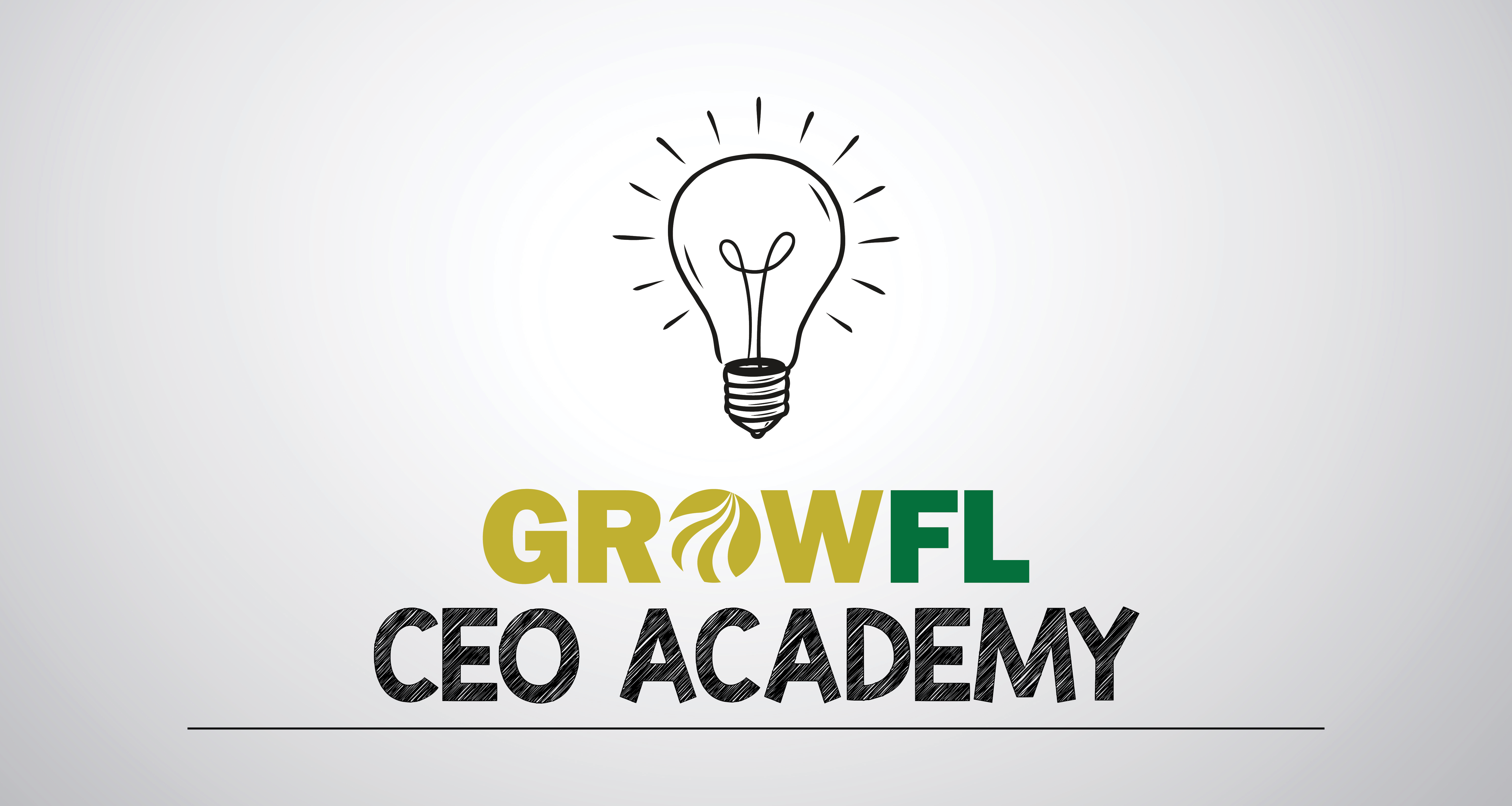 CEO Academy Series
Are you webinared out? We hear you! That's why we went back to the drawing board to revamp our traditional webinar series.
Each year, we survey the second-stage CEOs in our network on the topics most important to them and the areas of business they may be facing challenges in. We took those top 10 topics they shared and launched the CEO Academy! GrowFL's newest program will continue to connect Florida's CEOs and provide an environment to learn, share, and grow.
Join us for the first session with The Profit Recipe!
Your registration is on us.
When: Thursday, October 21st from 11 am – 1:30 pm
Session Topic: Leadership Best Practices with Franck Saragossi
(We'll also do a deep dive into what you can expect during this 10-month series.)
What makes the CEO Academy different? 
Although the 10-month CEO Academy will still be virtual, it will operate using the 20/20/20 format:
20 minutes of presentation of a subject matter expert
20 minutes of small group discussions
20 minutes for a group debrief and final Q&A
GrowFL understands the impact connecting will fellow second-stage CEOs can have on business growth. As a statewide organization, we can help you foster those business relationships with peers near you, across the state, in a similar industry – you name it.
We added the small group discussion component so you can connect, share and learn from CEOs like you. The CEO Academy will also give participants the ability to turn their microphones and cameras on to interact directly with the presenter, allowing you to get immediate answers to any questions you may have.
Session topics will include the following.  All sessions are virtual except as noted below:
Leadership Best Practices – October 21, 2021, 11am – 1pm
HR Strategies for CEO's – November 18, 2021, 11am – 1pm
Leadership Communication – December 9, 2021- Orlando, FL (in-person followed by a Mixer 3pm to 6:30pm)
R&D Tax Credits – January 20, 2022, 11am – 1pm
Talent Recruitment and Employee Benefits, February 3, 2022, 11am – 1pm
Business Process Improvement, March 17, 2022, 11am-1pm
Sales and Marketing, April 21, 2022, 11am-1pm
Company Culture, May 19, 2022, 11am – 1pm
Succession Planning, June 16, 2022, 11am – 1pm
CEO Academy Retreat, July 21, 2022, 9am – 4pm – Orlando, FL
This event is exclusive for CEOs, presidents, and business owners of second-stage growth companies.  Second-stage companies have between 6 and 150 employees and $750,000 to $100 million in revenue.  If you have any questions, please contact Hannah Metevia about participation.  You can select below to register for the entire series or to try out the program and just register for the first one complimentary and then you can decide if you would like to register for the entire series later.