GrowFL Southeast Chapter Event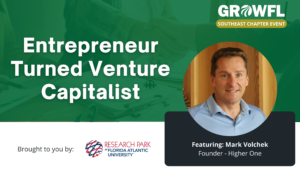 The GrowFL Southeast chapter brings together second-stage CEOs and business owners in the region quarterly. Events feature a second or third-stage keynote speaker who will share how they have grown their business and lessons learned along the way or strategies and solutions to overcome particular challenges.
Hear from Mark Volcheck, Founder of Higher One and Founding Partner of Las Olas Venture Capital, how he grew Higher One from just three founders to more than 1,000 employees and guide the company through multiple acquisitions exceeding $150mm in aggregate value. When Mark left in 2014, Higher One's products and services supported more than 1,900 schools and approximately 13 million enrolled students. Since 2008 Mark has been an active angel investor and has invested in over 30 companies.
GrowFL Regional Chapter events are reserved for CEOs, Presidents and Business Owners of second-stage companies. NOt a CEO but interested in attending? Reach out to Hannah Metevia at [email protected] for more information.
Learn more about GrowFL's regional chapter membership here.
About GrowFL: GrowFL is driven by one goal – to provide resources for CEOs of second-stage companies to help them overcome unique challenges and accelerate their business growth.
About Research Park at FAU: The Research Park at Florida Atlantic University® is home to technology companies and research-based organizations working to support the research and development activities of Florida Atlantic University and to foster economic development and broaden the economic base of Broward and Palm Beach counties.