Lenkbar LLC
Lenkbar Economic Impact
Jobs
56
522% Job Growth
2015-2019
Revenue
1,145%
Revenue Growth
2015-2019
About
Lenkbar LLC is a reliable source for high-precision, close tolerance machining. They use state-of-the-art equipment in conjunction with conventional machining to manufacture precise medical devices to 0.001″ tolerances. All equipment and machines used are fully verified or validated and adhere to the stringent requirements set forth by ISO 13485, FDA, OSHA and the EPA. They work with their customers to design and manufacture the highest quality devices on the market.
Lenkbar LLC was featured in this edition of our magazine! Check it out here.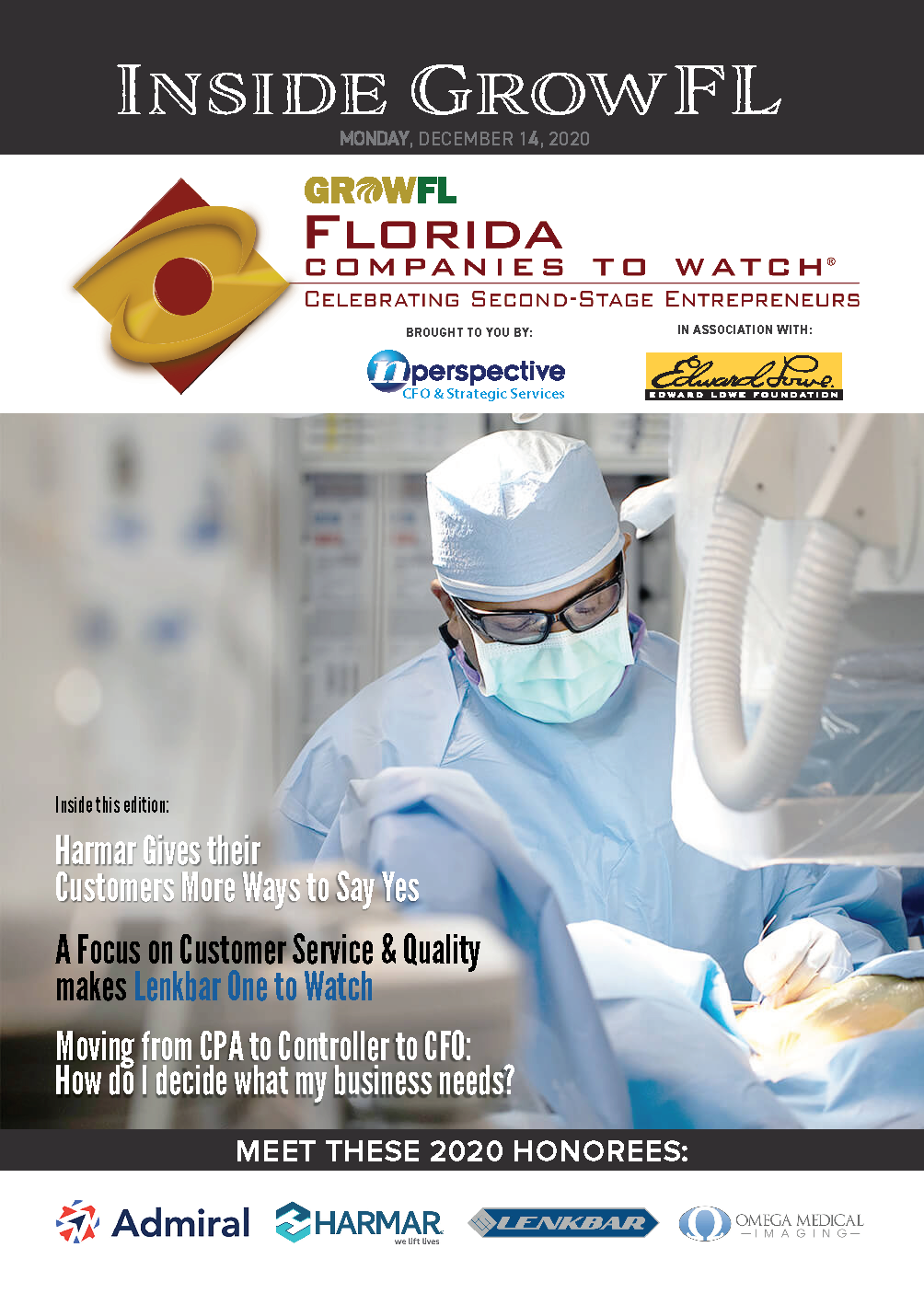 A Focus on Customer Service & Quality makes Lenkbar One to Watch
What was the evolution that led to the idea of your company?
My father and I first owned Hansa Medical, which was sold in 2011. I immediately knew that I wanted to go into design and manufacturing of medical devices again. Hansa Medical was the same type of company as Lenkbar but on a much smaller scale. After we first sold, I said I have to get back in. I had a five year non-compete at the time, so after that concluded, I opened Lenkbar and now here we are.
This is what I do, this is what I know. I'm an engineer and this is what I'm good at, so to accomplish my goals, this is what I had to do.
Tell us about your business and the value it brings to your customers.
We do things differently here. I believe if you're not different, you're like everybody else. You have to do things completely outside the box. There are ways of manufacturing a product the right way and there are ways of manufacturing the wrong way. We don't skip any steps. We design ways to make things better for our customers and we pride ourselves in being a strategic partner. We recently built a new building here so we could manufacture products at a much better pace and with a higher quality. We've added about $10,000,000 worth of new machines in the last year and we have hired over 30 new employees during the pandemic. We really love what we're doing, we're here to stay and we're doing it the right way focusing on the highest quality you can find in a company. We are constantly evolving by hiring quality engineers, adding a new ERP system, adding the latest technology and machines to make things faster and better for our customers.
We work 24/7, we have a night shift and we don't ever shut the shop down. We're working full speed to make sure we get all the products out. Our customers appreciate that we stay on schedule with on-time deliveries.
What's it like working at Lenkbar?
It's not an eight to five job. We come in are working on something different every day. We are constantly in order to deliver the safest, highest quality products. But, outside of work we enjoy getting together for dinners, going golfing or boating, we're all friends. I've built a lot of teams in my life, and I try to use that team mentality at Lenkbar. Twenty-five of my former employees at Hansa Medical are now with me here at Lenkbar. It's kind of like having the band back together again.
Any new, innovative products you're working on?
We have a new product called the Marrow Marxman™ which is a Safe-Deflective Bone Marrow Aspiration System utilizing our patented FlexMetric® Technology. This system eliminates the need for centrifugation and the additional manipulation steps required to achieve the cellular demand necessary for most clinical indications. Our FlexMetric® technology maximizes the available bone marrow geography to safely harvest bone marrow by skimming along the inner cortical-cancellous interface to harvest the higher concentration of stem cells. It's a state of the art , revolutionary device.
Each aspect of the Marxman™'s design was carefully configured with quality, efficiency, and effectiveness in mind. The collaboration between Lenkbar, LLC's engineering staff and Dr. Robert Marx's practical medical expertise has allowed incredible collaboration to innovate the Marxman™. Researched and developed over a period of six years, Lenkbar's team has perfected not only the product design, but also the surgical technique.
What's your competitive edge over other companies in your market?
I think our customer service really sets us apart. For instance, if Arthrex was to call me today with an issue, I'd leave my office within five minutes and be there with my team and a solution. Customer service is everything. I believe if you ignore your customer, eventually they will ignore you. I try to do the best I can with the highest integrity, the way I was trained by my father. My father is from Germany and he has a high standard for quality when it comes to a product. If the product is not perfect, we won't ship it.
What does it mean to you and your employees to be selected as an honoree?
When I started Lenkbar several years ago, I always hoped to have the opportunity to be recognized by an organization such as GrowFL. I'm really honored to be able to be a part of it. Being recognized by GrowFL is a direct reflection of all the hard work and long hours my team and I have put into Lenkbar. Our team is excited because this is another reminder that we're moving mountains and there is more to come.
Is there anyone you'd like to thank?
I'd like to thank our customers both here in Florida and across the country, especially during the past year. Having continued support by our customers during this tough time has been very important for the growth of this company. I'd also like to thank Arthrex for all they've accomplished here in Naples. It's an honor for Lenkbar to work with them.
What is your advice to aspiring entrepreneurs?
Get ready to work. It's not going to come easy and it's not going to come fast. I always say, I only work half days – 12 hours.
It's not going to happen without hard work and dedication.
How does Lenkbar give back to the community?
We're have been active with Team Red White and Blue, which supports our nation's veterans. Every year we go we go either out to Colorado or Utah we help re-engineer veteran's lost limbs. We're able to go out there and spend some time with them it's really rewarding.
Another focus of mine is helping kids in foster care here in Collier County. We have been involved in several organizations throughout the years. After meeting a few of those children, if I don't at least try to help in some way, then I'm failing them. I remember few years ago, we spent a day with the kids out on the water boating, water skiing and knee boarding.
At the end of the day, I hugged one of the 14-year-old boys and he wouldn't stop hugging me. He didn't have parents, so I kept in touch with him. Fast forward a few years, he's in college now, has a girlfriend and his life is on track. I finally asked him, what kept you holding on all those years? He goes, remember that hug we had? That gave me hope.