Q-PAC
Q-PAC Economic Impact
Jobs
23
117% Job Growth
2020-2021
Revenue
88%
Revenue Growth
2020-2021
About
Q-PAC designs and manufactures fan system technology for the commercial HVAC industry. Their products simplify the design, integration, and operation of fan systems to create efficient solutions for building owners and managers (e.g., hospitals, airports, universities, high-rises, government agencies).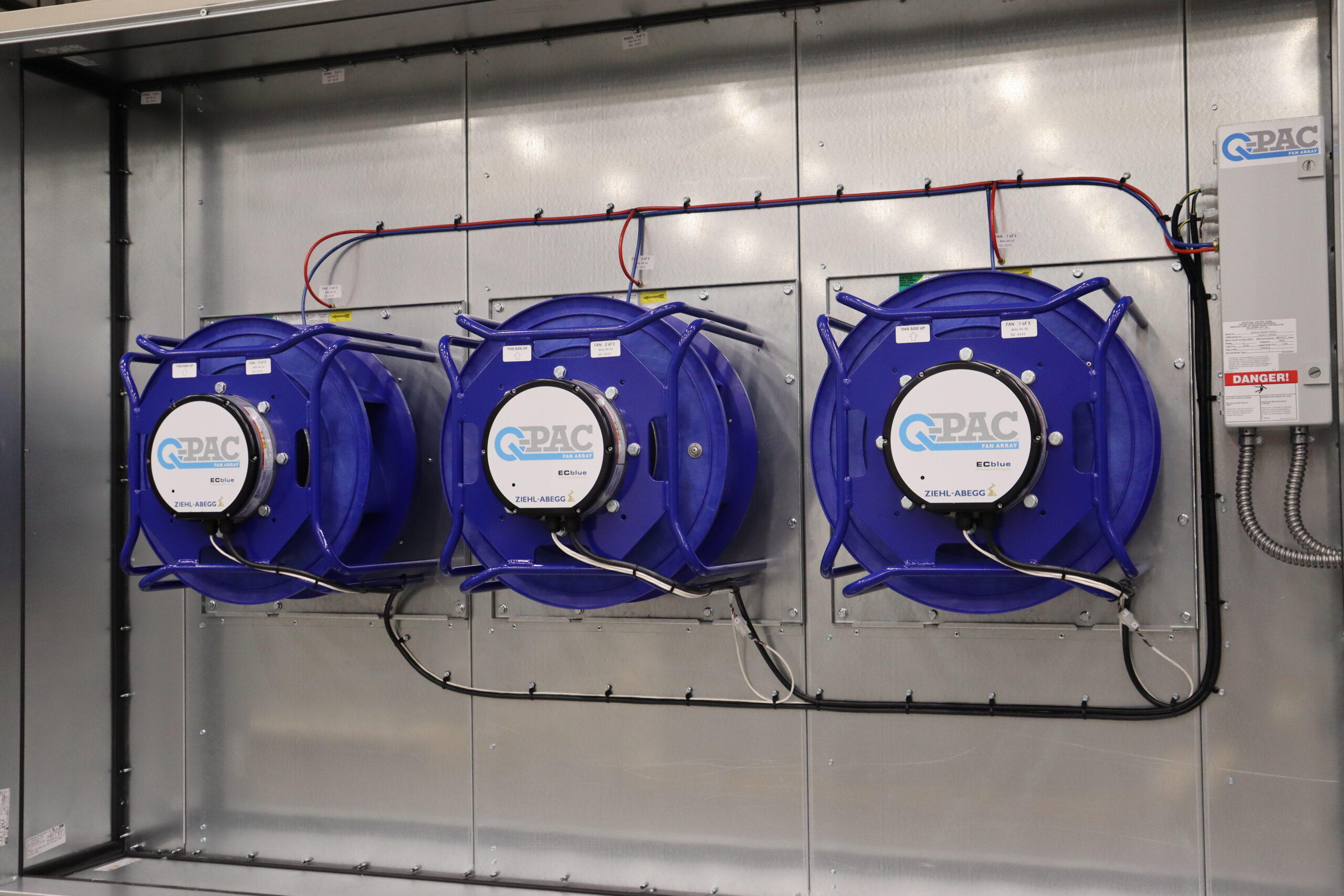 Meet Q-PAC
What led you to your entrepreneurial journey? 
After I graduated college, I moved back home to Saint Augustine and started applying for jobs all over the east coast. I knew I wanted to live in Florida near the beach and the truth is, I ended up just getting pretty lucky. I ended up applying to a company after meeting the owner of a company that had opened his business a few months prior. He had a full-time job open at the time, so I interviewed with him and started the next day. It was only me showing up there for about seven months until he saw enough opportunity and decided to join me. He quit his other full-time job and it took off from there. MAS HVAC was a very niche business in the commercial air handling unit world. As we were growing, we stumbled on these fans and the new fan technology coming out of Germany.
We decided to start applying it in our commercial airing products and we ended up getting really, really good at it. We were leading that area in North America so much so that we decided to start selling the fan system on its own. Ultimately, in 2019, we split the companies and QPAC is now two years into our own journey. MAS HVAC relocated from Florida and moved to Minneapolis and now both companies are on completely different trajectories since we spun off. It's been an interesting ride. It's been a little bit emotional too because a lot of us were very close and to see the separation, it was tough. But, now that we stand alone we are solidifying our lead on the commercial fan system market we're like no one else. We really don't have direct competition since our technology is so unique and patent pending.
What value does your company bring your customers?
Our products are time-saving, simpler, and quicker. We've developed our own selection software that allows our sales representatives to quickly get what they need pricing and design-wise. On one side, we pay attention to the tiny details of the ergonomics of the product design. On the integration side, our product is super simple to install. It requires minimal tools and has lightweight components, so it doesn't require a group of people or specialists to install it. On the operation side, we create a lot of value by offering premium control solutions that integrate with the building. Think of a large-story building in Chicago or Manhattan, QPAC is we're delivering the latest technology and building automation systems to places like that.
What's the culture like at QPAC?
We're rapidly growing as a team. Three years ago, we were only eight people. Now, we have 42. Our values are to be curious, agile, relentless, and passionate. We put a lot of work into figuring out our identity and that really is us. We're a hyper passionate team and we love solving problems. We all enjoy working together and we don't take things too seriously. We like to have fun and do different activities together, like taking a break and going horseback riding or playing corn hole. We have an entire recreational area with ping pong tables, dartboards, corn hole and a full gym our team can use.
We have very little bureaucracy in the company, we're almost a flat structure. I can always count on our team to rally, as we like to say if we need to pull through for a customer. Whether that's working over weekends or late one night, we're a passionate bunch.
What are some major challenges you've found in growing your business?
I have been incredibly challenged, sometimes I feel a little in over my head because the company is scaling faster than my mind can learn. I think the biggest thing that I'm seeing is communication. When you have a smaller team, you can shout loud enough to let people know that you're going to go to lunch. But, now that we've grown to 42 employees, things start to change. It's very hard to drive clarity in communication. We've been putting a lot of emphasis on communication and passing information to make sure everyone understands everything that's going on.
When you're a smaller team you can be very agile without really putting that much effort into it. On the other side, to be agile but also scale, you have to build a template. We went years without having an organizational chart – no management, no titles. We're finally at the point where, for clarity, we need to implement the basics around structures so that we know what teams are working on what. This also helps show opportunities in teams where we need to fill a hole and we can start to internally move people to different opportunities within the company.
Where do you hope to see your business in the next few years?
We just had a meeting with a land developer because we just moved into our building less than three years ago and we're already growing out of it. We're at the point where we're going to run out of space! We're going to need a new facility double in size over the next two years. Since we've scaled so quickly, we're going to continue to focus on maintaining the culture, improving the quality of our products, and building better processes.
What's your proudest moment as CEO?
Honestly, every day I'm proud. Recently, we had a really big day when our most proprietary product, the QUICKBOX, had its first shipment of our own. We've been outsourcing the manufacturing and now we're shipping the first unit that we built all internally. We're creating jobs, opportunities, and overall a better product. I'm really proud of QPAC, this is a huge milestone – we've been waiting for about three years for this level of development.
Another proud moment for me was this award. I'm seeing all these other companies who are part of the 50 and I'm so proud and honored that we're receiving this award. I can't believe it's actually happening, honestly. Before being nominated, we weren't looking for any awards. The fact that people are paying attention and seeing what we're doing, I think, is really something to be proud of.
What does it mean to you to be selected as a GrowFL Florida Companies to Watch Honoree?
It's nice to know that there are people paying attention to the work we're doing and there are organizations like GrowFL that support small businesses. To know people are watching and supporting what we're doing is really awesome.
What is your advice for aspiring entrepreneurs?
You need to be doing what you love. It doesn't matter if you're the CEO or an employee, you need to be passionate about what you're waking up every morning and doing. You need to be excited about the mission or what the company is solving. As

cliché

 as it might sound, it's important to actually enjoy what you're doing.
Photo Gallery