Before COVID-19 the company retirement plan was viewed as a necessary overhead expense to attract and retain talent. Generic, commodity style plans permeated the industry and no one was discussing how the plan could be weaponized to mitigate tax and enhance net worth for owners. Post-Covid, business owners have tremendous revenue and demographic uncertainties and their current plan is now a financial risk.

In this webinar we will cover foundational concepts and governing deadlines of how to amend the different commodity plan types to cut costs and hedge against revenue uncertainty in 2021. We will then show how entrepreneurs that utilize a customized plan have more flexibility/predictability in their employee match AND can shelter distribution income from tax. Finally, we will analyze the difference between proprietary mutual funds vs institutional class mutual funds and chart the difference in return between the two when the market drops the way it did in March.
Meet the Presenter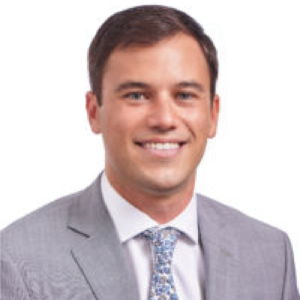 Alex Jenkins joined NestEggs as we rounded out our second-generation leadership team and has been tasked with all things business development. He is a Jacksonville native and a graduate of the University of Florida with strong roots in the community. Alex brings seven years of experience from the Medical Device Industry where he sold at the Enterprise level for ZimmerBiomet's Surgical Division. In that role, Alex worked with physicians and hospital supply chains to grow market share in the North Florida, South Georgia and Central Texas regions. While with his former employer, Alex's sales achievements earned him recognition in the Circle of Excellence, as well as President's Club six out of the seven of his years with the company. In addition, he was the recipient of the Veteran Leadership award in 2015 and became the youngest senior representative in the Surgical Division's history. We are excited at our growth prospects with Alex as NestEggs' ambassador.
Alex is Series 65 licensed Investment Adviser Representative (IAR) and is a Certified Plan Fiduciary Adviser® (CPFA®). He is currently studying to become an Accredited Investment Fiduciary (AIF®). Alex enjoys spending time with his wife Allison, son Xander, and Rhodesian Ridgeback puppy, Leeu, on the weekends. The Jenkins are avid fans of the outdoors, live music and live in south Jacksonville Beach.
About NestEggs
NestEggs is a boutique, bundled provider of customized 401(k) and pension plans. For 22 years they have served as Third Party Administrator, Record Keeper, and SEC Registered Investment Advisor for hundreds of small to medium sized businesses.

Their core belief is that the commodity, "check-box" plans that permeate the industry are a disservice to business owners. The founder of NestEggs authored a textbook about how to weaponize Qualified Plans for entrepreneurs to create large tax deductions and enhance net worth. That book was previously used by The American College of Financial Planning in their CFP curriculum. Serving as fiduciaries, NestEggs is a single-point of contact solution for businesses who want a plan tailored to their unique needs and robust investment advising support for their employees.