What is your company's competitive edge?
What gives us a real competitive edge is our background in the industrial and manufacturing world. We strive to develop processes and systems to ensure we have a set of best practices for each aspect of the student's experience. It's extremely similar to if we were running a manufacturing plant, which is something you don't often do in this space. The flight training space traditionally has seen a lot of people and schools just winging it and hoping it all works out – no pun intended there. At Paragon, we run the business a bit differently than our competitors, and that's trickled down to our customers. We're able to offer a product that delivers and executes far greater than many of our competitors.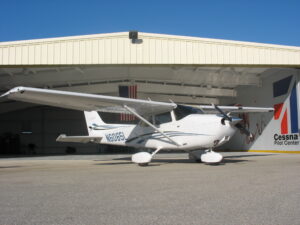 Explain the culture of your organization. What is it like working at your company?
We bought the company in 2010 when it was very much running like a typical business. We sat down and engineered how we wanted the company to feel and what we wanted it to be like for our team members.
We have about 85% turnover every year and a half. It's different in this industry because the flight instructors are typically only with a school for a year or so, this is almost like college football, instructing is a stepping stone for them in their career. Once they get their certifications, they'll come work at a flight school for about a year, and then they'll go on to the airlines. With the massive turnover this industry experiences, we had to build a culture that was robust enough for our values and principles to be passed along to new instructors that are constantly rotating in.
We try to do things differently in our business. For example, when we interview people, it typically takes a few days to complete the process. We will fly candidates in from out of state and more or less drop them into the school to let them see what happens. They hang out with our staff and at the end, the team "votes them in on the island". We want to have a buy-in from most of the team, if not all when bringing a new member on board. It's been wild, but it's a lot of fun.
Describe some major challenges you've found in growing your business.
This industry is unique in the fact that it's extremely capital intensive. When you're purchasing equipment, a typical aircraft is anywhere from $300,000 to $500,000. The margins are very thin because you're basically renting a $500,000 piece of equipment for $200 an hour. Utilization must be very high and there's no room for error. It's a significant challenge.
Our second major challenge is regulatory. Aviation is one of the most regulated industries in the US, besides the banking industry. We have regular communications, inspections and audits from the FAA, TSA, Department of Homeland Security, and ICE, for instance. All these different government entities are stand-alone and none of them communicate seamlessly so we have to make sure that you're checking all the boxes that every single one of them wants you to do. At the same time, we're maintaining a very high-level experience for the student and ensuring they don't experience delays or setbacks in their programs. It's literally like the Wizard of Oz and the "magic behind the curtain" so to speak.