Tell us about your business and the value it brings to your customers.
Pink Stork creates supplements, including gummies, teas, topicals, vitamins, and more, to support all women at every stage. We are The Wellness Brand for Women™. My mission isn't just to provide women with clean, natural products that address the root cause of their issues; I also want to support women emotionally, mentally, and spiritually as they create a healthy foundation for their lives. We hear from women across the world every day about how our products have changed their lives and helped them overcome their challenges.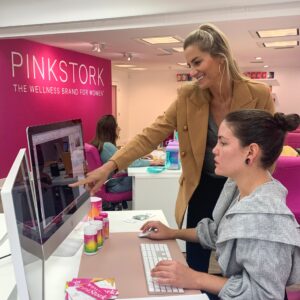 What's it like working at Pink Stork?
If you've passed through St. Augustine, you probably know our building. (It's the one with the big pink wall that features an inviting mural of a pair of wings, where passersby often pitstop for photoshoots.) We're on the San Sebastian River with a view of the historic buildings of downtown St. Augustine across the water. Walking up to our building, you'll be greeted by a pink runway, and inside, you'll find employees working diligently while sipping on our drink mixes, getting their creative juices flowing on our trampoline, or blowing off some steam at the ping pong or billiards table. Our company culture is nontraditional, vibrant, and passionate. Our team members are involved in the process of creating our products, from development to testing, to make sure they're the best for our customers. We encourage team members to move quickly, take smart risks, and be unafraid of change. We expect a lot of our employees and believe they should expect a lot from us. We encourage an open-door policy, where employees can frankly offer input. We've also become a choice employer in St. Johns County, offering unique opportunities for professional growth, especially to young professionals right out of college, and we take pride as a team in what we're doing for our community. The word I use most to describe our company culture is "love." Love is an action that we choose each and every day. When we're compassionate, empathetic, and unified, we're stronger. And the stronger we are, the more able we are to help each other — and our customers.
Can you explain your company's competitive edge over others in your market? 
Pink Stork is The Wellness Brand for Women™. Our customers can trust our products knowing that they're designed, tested, and loved by women like them. Unlike other brands, we offer a comprehensive line of products that meet women at every stage of life, from PMS to menopause. No matter their age or lifestyle, women can feel supported by our diverse line of products, from gummies to teas and topicals, at home or on the go. Our Customer Obsession Team goes above and beyond to support our customers, from answering their questions to creating an engaged online community, PS Life, where they can inspire and empower each other. In addition to these efforts, we support the community through care packages to local women, clothing and toy drives, and wellness product donations.